A video is going viral on social media. It is being claimed about this viral video that the video is from Kurukshetra in Haryana, where a shrine has been made illegally inside the Gita Upadesh site. Social media users claim that this Mazar has been built to occupy the temple.
On Twitter, a user named Manoj Azad wrote- "Look at the audacity of the heretics, the shrine of Pir was built inside the temple, where Lord Shri Krishna had given the knowledge of Gita i.e. Kurukshetra has been made in the same temple premises. Rt so that it can help in removing Pir Ka Mazar from the temple premises!"
विधर्मीयो के दुस्साहस तो देखिए मंदिर के अंदर बना डाला पीर का मजार भगवान श्री कृष्ण ने जहां गीता का ज्ञान दिया था यानी कुरूक्षेत्र उसी मंदिर परिसर में मजार बना दिया गया है कृपया ज्यादा से ज्यादा Rt करें ताकि मंदिर परिसर से पीर का मजार हटाने में मदद मिल सके ! pic.twitter.com/89tD0osHLr

— मनोज आजाद (@Azadmanojbjp) May 11, 2022
At the same time, a verified Twitter handle named 'Sudarshan' News also shared this video and tweeted – "Land Jihad in Kurukshetra? Where Lord Krishna preached the Gita to Arjuna, built a tomb there..!! Conspiracy to capture the holy Hindu shrine? Looking forward to an inquiry from @mlkhattar @anilvijminister"
कुरुक्षेत्र में लैंड जिहाद ?
जहां भगवान कृष्ण ने अर्जुन को दिया गीता का उपदेश, वहां बना दी मजार.. !!

पावन हिंदू तीर्थ पर कब्जे की साजिस ?@mlkhattar @anilvijminister से जांच की अपेक्षा है pic.twitter.com/4He9Ig1zvG

— Sudarshan News (@SudarshanNewsTV) May 8, 2022
Fact Check:
We searched on Google for the fact check of the video going viral. We found a link to news published on the Hindi newspaper 'Dainik Jagran' website on 10th May 2022. According to this news- "Jyotisar residents told that the ancestors of Pandit Satpal have been made at Jyotisar shrine which is 30 years old. Somebody put a blue chadar on them.
After this, a young man made a video and told it to the Majar of Pir. This video went viral in the city and discussion started on it. At the same time, Dr. Naresh Bhardwaj, a member of the Green Earth organization, alleged that a viral video is trying to incite religious sentiments of people by promoting religious propaganda about the Jyotisar shrine. Green Earth organization opposes this. He demanded from the administration that a case should be registered against the person spreading the propaganda under the IT Act. (English Translation)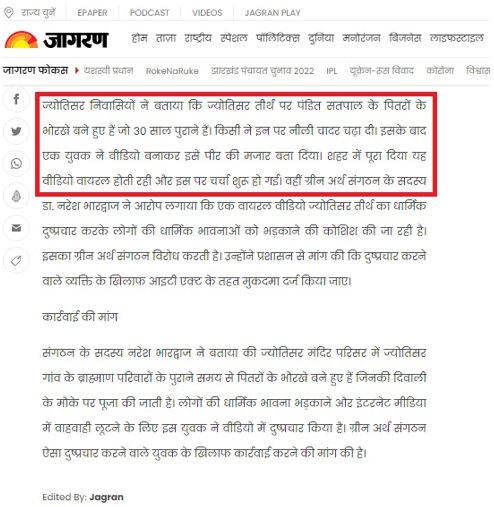 https://www.jagran.com/haryana/kurukshetra-at-jyotisar-shrine-the-issue-of-offering-blue-sheets-to-the-ancestors-horns-caught-fire-22699050.html?msclkid=95969b74d06911ec8bc990032cbb6ae4
Conclusion:
This fact check proves that the claims being made by social media users and Sudarshan News are false and misleading. Because no tomb has been constructed at the place of Gita preaching nor has any attempt been made to occupy the temple land by making it a tomb.
Claim Review- Attempt to capture 'Gita Upadesh Sthal' in Kurukshetra by building a tomb
Claimed by- Sudarshan News and social media users
Fact Check – Misleading