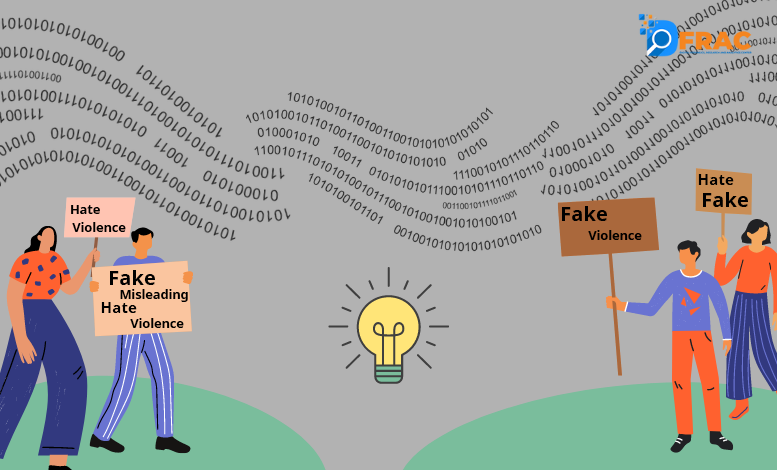 From Communal riots in cities of several states on Ram Navami to Hanuman Jayanti clashes in Delhi's Jahangirabad. From clashes in Gujarat's Vadodara over road accidents to violence in Karanatak's city over social media posts, the communal hatred bandwagon is on the rush lane, and so are the avenues of hate and fake news. With an average Indian consuming so much information daily, it is hard to decipher truth in the post-truth era. Strict laws can be developed to punish hate mongers, but more important is for the consumer of information to understand what the reality is. Action can be taken against the accused in the case of inciting religious sentiments through fake news, but the question is what is fake news and why the need for legal strictness was felt on it.
What is fake news?
Fake news, as the name suggests, is an attempt to damage the image of an individual, organization, region, religion or language. Under this, false things are said or written in any news. It is not necessary that this news should come in any newspaper or TV. Fake news is being spread a lot through social media these days.
How does it spread?
The specialty of misleading news is that even after being completely false, it seems to be true. Sometimes it also contains wrong data and statements. Sometimes the statements of big politicians are twisted in such a way that their meaning is changed. This also comes under the category of Fake News. Apart from politics, such false news is seen in every matter related to life. For example, taking the vaccine itself, it was said about many vaccines that they cause impotence or other problems.
The discussion of fake news started in the year 2010
Then spreading fake news during the US election was compared to mass hysteria. That is, the spread of panic among many people by reading or listening to any news. Due to fake news, anger spreads against any person, organization or people of any religion in some other section. Sometimes fake news goes to such an extent that it leads to riots.
Fake news spreads fast
Fake news spreads faster than news based on general and truth. Many researches have also been done on this. Massachusetts Institute of Technology (MIT) found in a research that the content of fake news is woven in such a way that it spreads like fire. This information has come on the website of MIT itself.
What came out of the research?
Fake news spreads faster, wider and more rapidly on social media than real. Apart from this, the funny thing is that the flow of false news is not increased by fake profiles. In fact, people tend to share more false news than they think it is true. The study showed that fake news is 70 percent more likely to be shared on Twitter than real news.
Is misinformation and fake news the same thing?
Barring the term 'fake news', the authors of the research have deemed it correct to use 'true or false news'. However, "fake news" refers to intentionally spreading false or false news. We do not know who is spreading what news, for what, so instead of fake news, it was called true or false news in research.
What types of news was studied in the research?
It has about 1.26 lakh stories, which were tweeted 45 lakh times by about 30 lakh people between 2006 and 2017. These stories, which are focused on research, were verified by six independent fact-checking websites.
Why is false news more viral?
Researchers say that people share new information more on social media. Fake news mostly looks new and very interesting compared to true news. This is the reason that people send it to others in the name of novelty. Many of those who spread fake news are not even aware that they are promoting falsehood.
Does it have any political implications?
Fake political news spreads far and wide. Fake political news spreads three times faster than ordinary fake news. As more people reach out to different social media platforms, reading false political news can have political implications.
What is difficult to control in India
We often talked about fake news here. Especially in today's time when so many people are active on social media, it can be very difficult if there is no difference between fake and true news. This is the reason that the government keeps alerting about fake news from time to time. Even in the year 2019, the Supreme Court had even said that we need such a guideline, so that those who commit online crimes and spread misleading information on social media can be tracked.
Many rules under IT Act but lack of strictness
States do not have specific information about the Act to the police. In such a situation, information cannot be expected from the common people. This is the reason why many people forward any viral post without thinking. Search engines and social media platforms are also very relaxed about this and many times they refuse to give their user information to the government.
About Author