Fact Check: Did a Hindu restaurant manager in Bahrain denied entry of a hijab-wearing woman?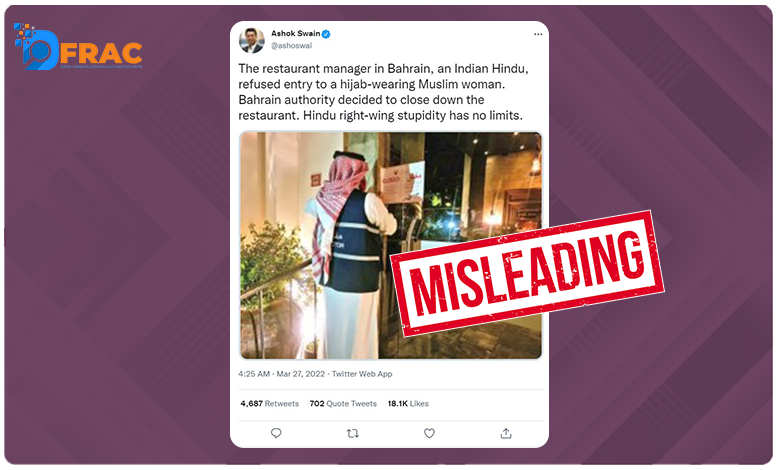 The ongoing Hijab controversy has become one of the most discussed issues nationally and internationally. Many people are criticizing the Karnataka Hijab verdict which denies the students in Hijab to attend class. On the other hand, many people have supported the verdict saying that students should follow the uniform dress code. Meanwhile, many news related to this hijab row controversies can be heard. One such news is getting massively viral on the internet. The news claims that a Hindu restaurant manager in Bahrain denied entry of a hijab-wearing Muslim woman into the restaurant.
Further, @ashoswai wrote in his post, "The restaurant manager in Bahrain, an Indian Hindu, refused entry to a hijab-wearing Muslim woman. Bahrain authority decided to close down the restaurant. Hindu right-wing stupidity has no limits."
Similarly, many users have shared this picture.
Fact Check
In our fact check analysis we found this news misleading. The woman in the controversy was identified as Mariam Naji. She took to her Twitter account and denied the claims. @Mariam1597 tweeted, "The truth is the manager is British, not IndianNaji, Naji, Indian,Indian,"
The truth is the manager is British not indian 🙏🏼 https://t.co/QBIb4eO71J

— Mariam naji 👁🇧🇭 (@Mariam1597) March 27, 2022
Further, we found that the owner of the restaurant is Indian but the manager who denied the entry was British. But, some media houses are giving a Hindu-Muslim angle to this. Although Marium Naji has denied the wrong fact related to this incident. When @ashoswai cross-questioned on her tweet and as her, what's his name? She replied, "The British Manager named Llyod and I want to mention that I'm Muslim and I don't like racism because God's land is big. It can handle all of us. I hope we live in peace pls stop doing this I told you he's British &I can identify the person if he is an Indian or not."
Also Read: Mapping #Muskan: A protest amplified by Pakistan
Conclusion
Hence, it is clear that those who have spread this news want to mislead people.
About Author