FactCheck: Is CM Yogi Going To Join Samajwadi Party?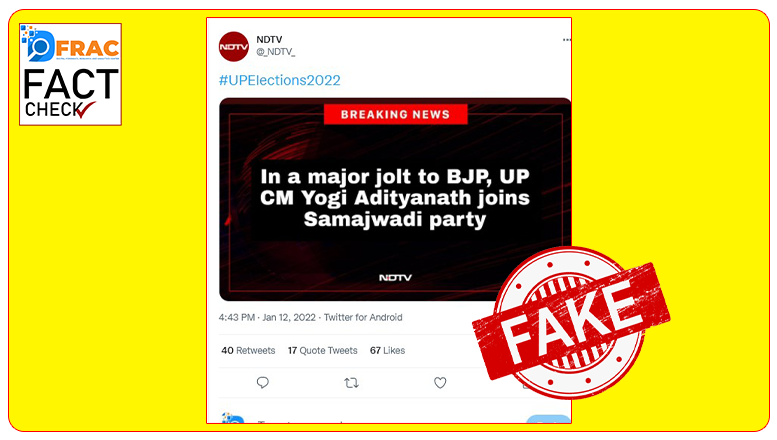 A claim from the Twitter account named @_NDTV_  is going viral on the internet. The post claims that in a major jolt to BJP, the Chief Minister of Uttar Pradesh Yogi Aditya Nath joins Samajwadi Party.
Further, other users like @NurulIs34643860, @Iambruce, @livemanis, @bharathbunny27 have retweeted this tweet.
Also Read: Did the Bhakti movement heralded the freedom struggle in India?
Also Read: Did the Modi government hold a cabinet meeting to expel Sikhs from the army?
Fact Check
On our FactCheck analysis, we found this claim is completely false. Firstly, @_NDTV_ is a fake Twitter account.
Moreover, the official Twitter handle of NDTV is @ndtv.
The official handle of NTDV made no such claims. Also, no other media house had posted any such news. Neither CM Yogi AdityaNath nor BJP headquarters said anything like that. In addition, there are no such claims from the Samajwadi party's office. The only information we found out from some media reports is that Congress MLA Naresh Saini and Samajwadi Party MLA Hari Om Yadav, both from Uttar Pradesh, joined the BJP on Wednesday, a day after the ruling party suffered a jolt with the resignation of state government minister Swami Prasad Maurya.
Hence, the news Chief Minister Yogi joining Samajwadi party is competely fake and baseless.
About Author