Fact Check : Are Images Spreading Over The Verdict of R Sakkarapani Real?
Two images of food minister R Sakkarapani are spreading all over the internet which are said to be circulated through NEWS 7. In which the picture on the left states, ""People are not thankful. The Pongal gift was first and foremost created but not thanked by the people"
And the right picture states, ""The Pongal gift package given in rations is sacred. The government should not be criticized for providing it for free. Don't but those who don't like it."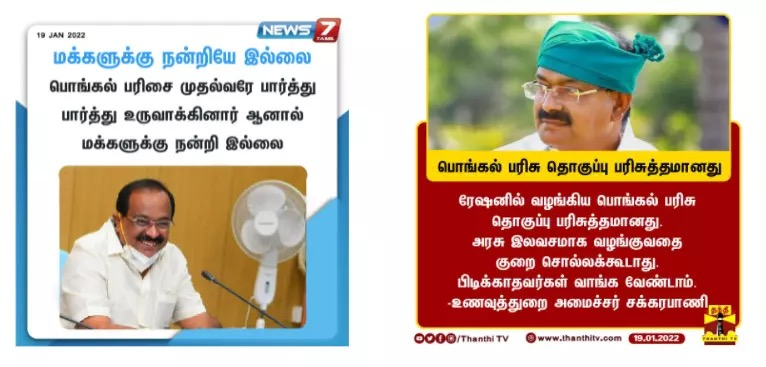 Also Read: News of death of Lata Mangeshkar goes viral on social media. Know the reality.
Fact Check
R Sakkarapani himself came out and said these pictures are not of his statements, and neither he will say anything like that ever.
பொய்களை நம்பியே பிழைப்போருக்கு பதில் சொல்லும் நேரத்தில் நிறைவான மக்கள் பணி செய்திடலாம் என்ற எண்ணம் உடையவன் நான்.

அறுபது ஆண்டுகளை கடந்தும் அயராது களத்தில் உழைக்கும் தி.மு.கழகத்தின் மாண்பை கணிணியில் உலவும் ஓரிரு பொய்கள் ஒன்றும் செய்துவிட முடியாது. (1/2) https://t.co/AMr2c8jcEu

— R.SAKKARAPANI (@r_sakkarapani) January 20, 2022
As the pictures were claimed to be spread by NEWS 7, the news agency also cleared that no pictures like these has been circulated through their media house.
Conclusion
That is to say, food minister, R Sakkarapani and media house, NEWS 7 themselves said that no such news is being forwarded by then, hence making it fake.
Claim Review– Viral Pictures of R Sakkarapani

Claimed by– Social Media users.

Fact check– false.
About Author