FactCheck: Pakistan Zindabad slogan in Gujarat. Know the truth of viral video.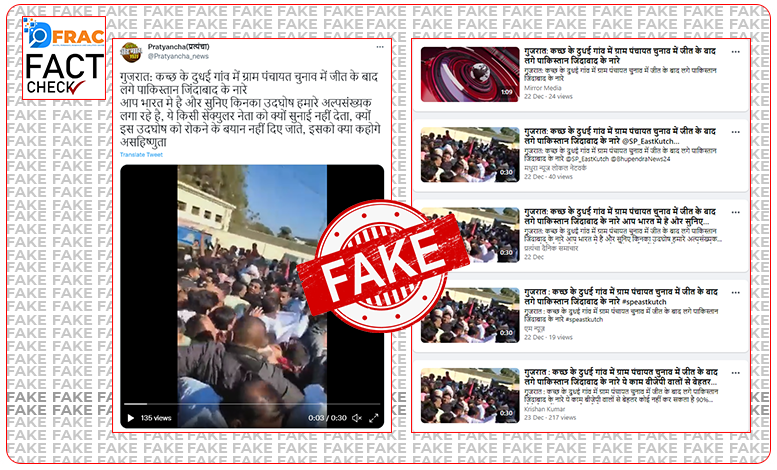 A video is getting viral on social media. In the video, some people were raising the Slogans of "Pakistan Zindabad." The viral video is of Kutch in Gujarat.
Consequently sharing the video, a user said, "some people raised the slogans of "Pakistan Zindabad", after the victory in the Gram Panchayat elections in Dudhai village of Kutch, Gujarat. You are in India and listen what slogans  our minorities are raising. Why can any secular leader hear it. Why no one is making statements to stop these type of proclamations. What would you call it, intolerance.'
Many other user shared the video with the similar claims.
FactCheck
On checking the viral video, our team found a report by News18 Gujarati, which is related to the election of Dudhai Gram Panchayat. The report said that in the Panchayat elections held in Dudhai village, 50 km from Bhuj in Kutch. Here Reenaben Randhubhai Kothiwad won by a margin of 1026 votes. After his victory, his supporters raised slogans of 'Radhubhai Zindabad'. Radhubhai is the husband of the winning candidate, Reenaben.
In this regard, we also found a tweet from the office of the Superintendent of East Kutch. In which they stated that "the video was posted on social media with a false claim that the slogan of "Pakistan Zindabad" was raised in the election victory rally!"
They further stated that, "in the video, the crowd told us that the man chanted "Radhubhai Zindabad" twice." Radhubhai is the name of the husband of Rinaben (the victorious sarpanch candidate)!"
Apart from this, we also found another video of SP Mayur Patil. He clarified that no pro-Pakistan slogans raised in the video.
https://www.youtube.com/watch?v=DnsLHSBwFBc
Moreover, in the video, SP Mayur Patil said, "After the announcement of the gram panchayat election results, Reenaben Radhubhai Kothiwad, the candidate of Dudhai village, was declared the new sarpanch. Subsequently, at a rally, her supporters raised slogans of 'Radhubhai Zindabad'.
In order to spread hatred, some people circulated the video claiming that the slogan was 'Pakistan Zindabad'. However, if you listen closely, you will get to know what exactly people are shouting.The police will that appropriate action against the people who are spreading this false news."
Conclusion:
It is clear that the slogan of 'Pakistan Zindabad' was not raised after the Dudhai Gram Panchayat result. Rather, the supporters of Reenaben Randhubhai Kothiwad raised slogans of 'Radhubhai Zindabad'.
Hence, this claim is misleading.
About Author