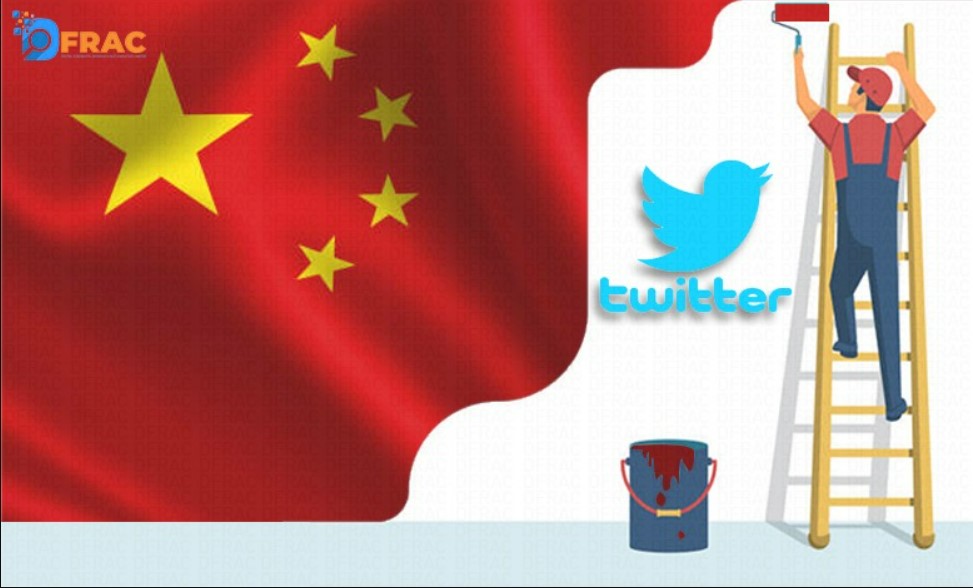 China, a country which calls itself the largest democracy in the world uses an increasing number of paid "internet commentators" in a sophisticated attempt to control public opinion. These internet commentators who are hired by the authorities of the People's Republic of China manipulate public opinion and disseminate disinformation to the benefit of the governing Chinese Communist Party (CCP).
For the fulfilment of the above motive, People's Republic of China has made a huge social media army. This army can be bifurcated on the basis of the roles assigned to each hired person.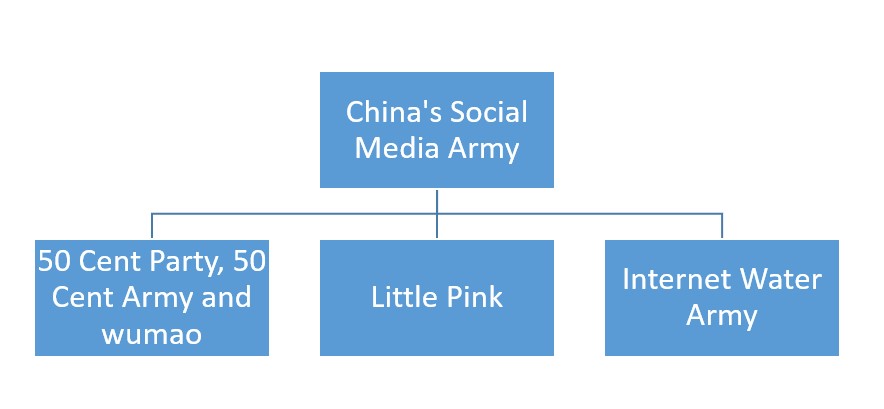 Wumao or 50 Cent Party or 50 Cent Army
The name is derived from the fact that such commentators are paid RMB¥0.50 for every post. Some of these commentators have labelled themselves ziganwu claiming they are not paid by authorities and express their support for the Chinese government out of their own volition. It was created during the early phases of the Internet's rollout to the wider public in China. The main roles assigned to this army were,
 – Create comments or articles on popular Chinese social media networks that are intended to derail discussions which are critical of the CCP.
Some accounts which fall under this category are:
Kyle (@KyleTrainEmoji): The account created in March 2016 shares all positive content related to China, which goes in favor of Chinese government.
Example, posted a thread on twitter to prove that no mosques has been demolished in China.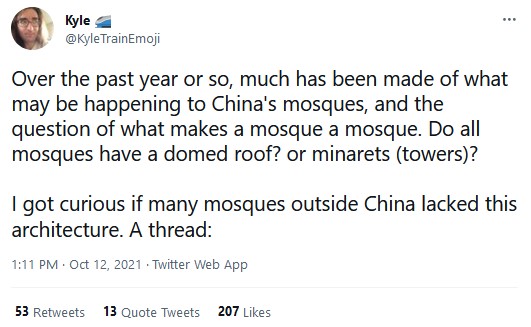 This account also posted a tweet justifying China has not debt trapped Sri Lanka.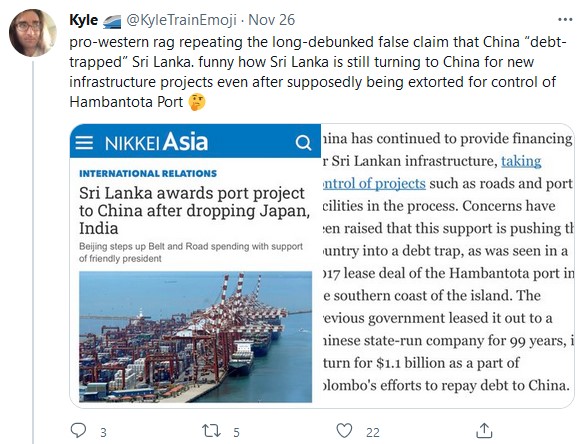 Example, this account retweets positive content related to China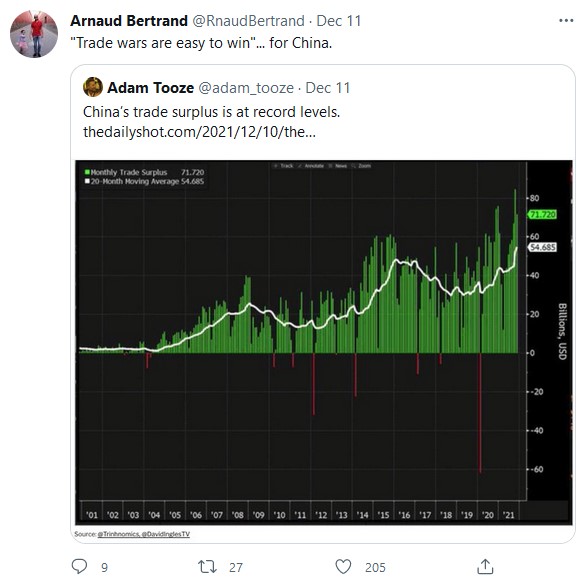 This account also counters negativity about China, gave Xinjiang Forced Labour a new story. By saying that it was US plan to bring unemployment and destruction to Xinjiang's economy.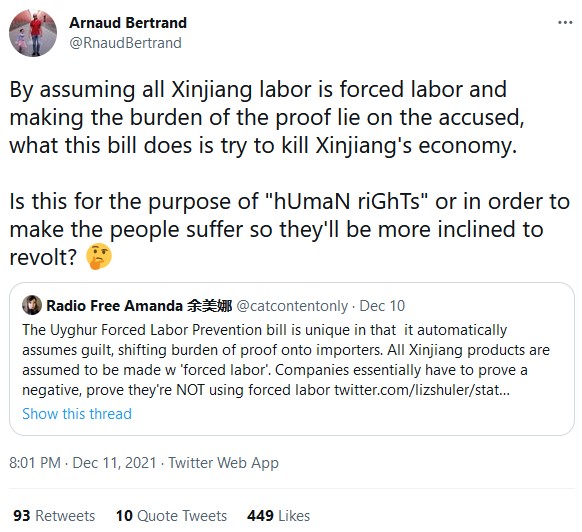 China Says (@China_says): The account which was created in Oct, 2017 posts content from its website, which are in favor of China and derails discussions which are critical of CCP.
Promoting narratives that serve the government's interests. Chinese accounts which share such narrative are:
LiuXM-XJ-5.0(@XMLisbk05): Account created in June, 2021 with location specified as Xinjiang, China usually pushes content on social media to show Uyghur Muslims are content and happy in China.
Example, Account showing Xinjiang Folk Culture.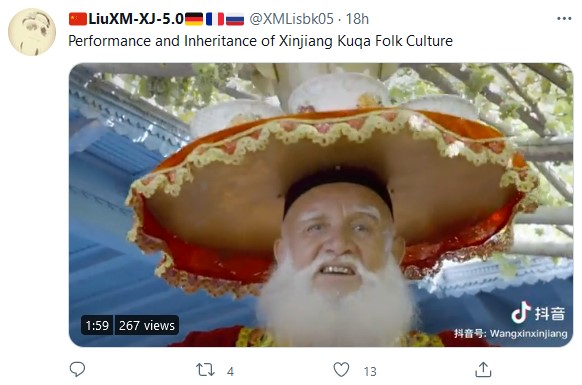 This account also retweets content of Xinjiang Channel (Verified Official Twitter Account of China Xinjiang Website) promoting positive content of Xinjiang province and diverting the observers mind from Uyghurs persecution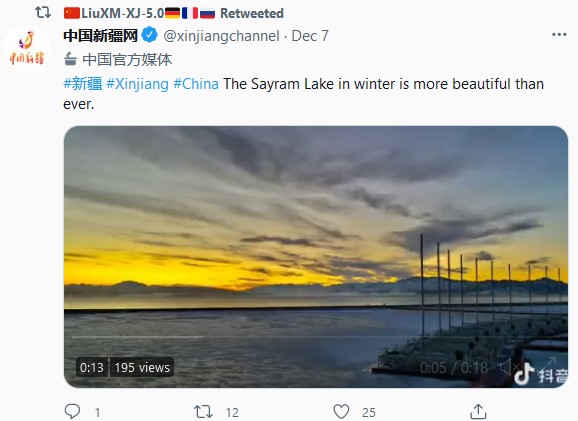 Gülnar (@GulnarNorthwest): Account created on December 2019 with the location specified as Xinjiang having 6K followers is promoting positive content about Xinjiang to show Uyghurs are living a content life here.
Example, the account tweets the short videos of Uyghur tradition and its culture.
Tweet: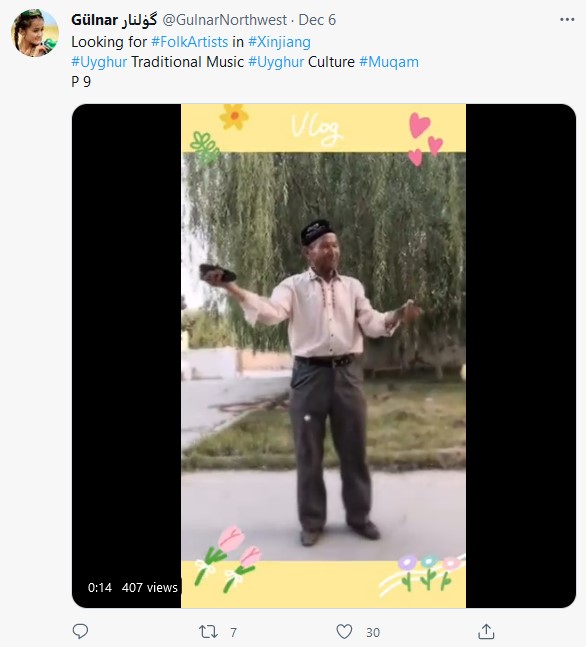 This account also counters the negativity for China.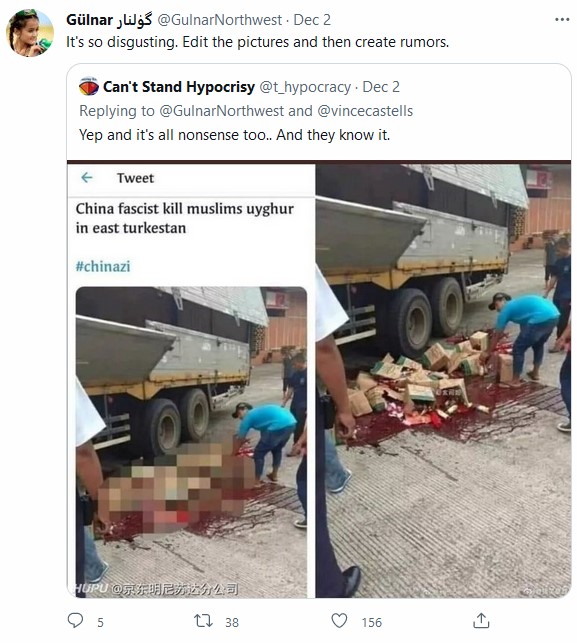 Insulting or spreading misinformation about political opponents of the Chinese government, both domestic and abroad.
Example, the account by the name Kyle is insulting US and praising China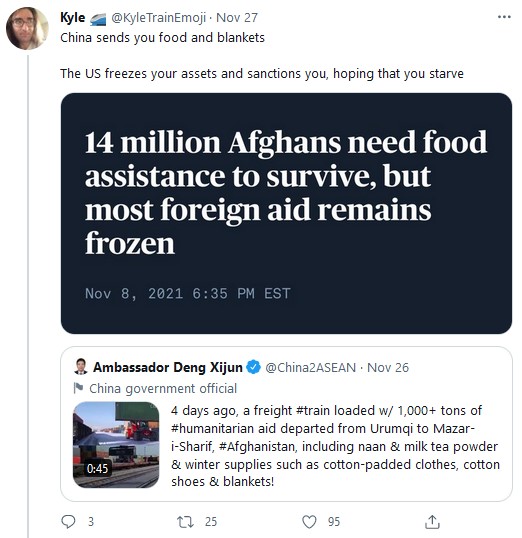 Other accounts which fall under his category are ShanghaiPanda(@thinking_panda), Dai Weiwei (@WEIWEIDAI4), Nury Vittachi(@NuryVittachi)
Little Pink
In 2016, Little Pink has emerged as the label for a new wave of cyber-nationalism in China. The Chinese Communist Party's official newspaper People's Daily and its daily tabloid Global Times have both lavished praise on the Little Pink as has the Communist Youth League of China. The group strongly criticized people who published posts containing negative news about China.
Example: Chinese student Yang Shuping's comments at her graduation day at the University of Maryland in the United States were arguably innocuous. She joked on Sunday about the smog in her home town and praised the freedoms she had enjoyed in the US. Her comments, however, triggered a huge backlash in China as internet users accused her of distorting the truth and belittling her home country.
Some accounts which counter the negative news about China are:
Azeem Khan (@mazeemkhan1974): Account created in June 2021, describing itself as a Chinese Uyghur Pakistani, mostly counters people who speak for the rights of Uyghurs being tortured in China.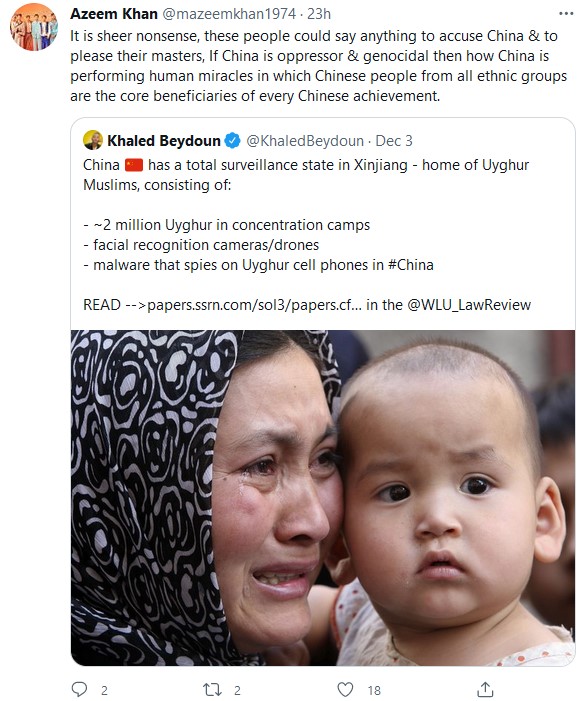 Jerry's China (@Jerry_grey2002): An account created in December 2015, with the location specified as Zhongshan, Guangdong having 32.8K Followers and it posts positive content about China and counters people who speak negative of China.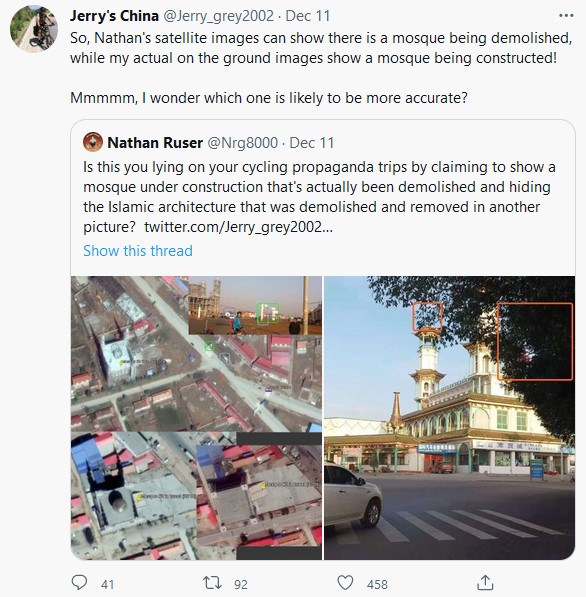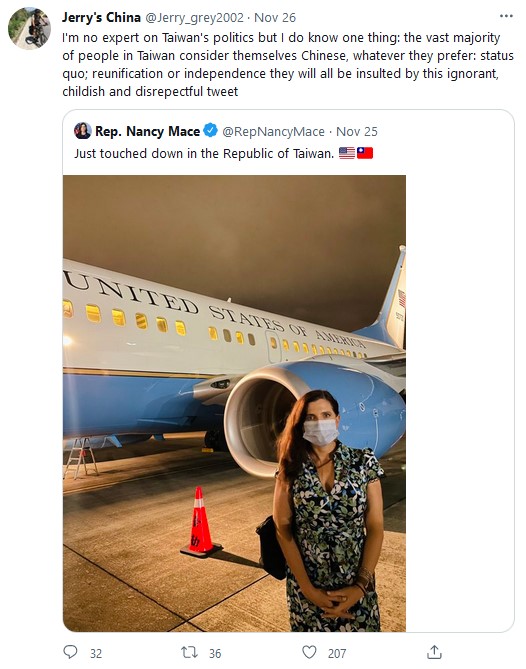 @roachJail: An account created in October 2021, advise people to report and block the accounts that posts against China. Example, accounts which tweet for Freedom for Hong Kong and anti-china content are usually advised to be blocked.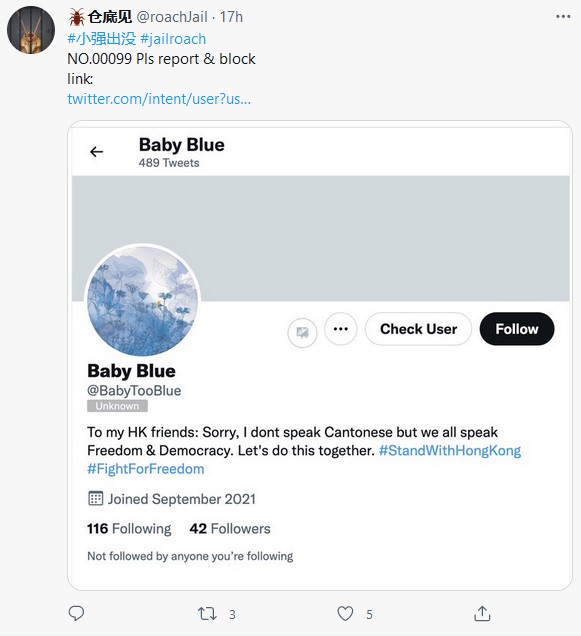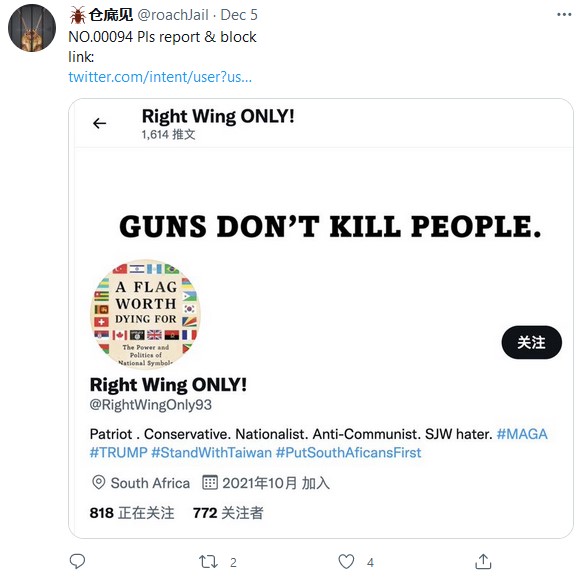 Other accounts that come under this category are IIINSULA 西遼 (@suidaila), 只喝白开水self (@zhehebaikaishui),  
Internet Water Army or wangluo shuijun
On the Internet in China, an Internet Water Army or Wangluo shuijun is a group of Internet ghostwriters paid to post online comments with particular content. Internet water armies were born in the early 2010s. These paid posters can post news, comments, gossip, and disinformation on some online platforms such as Weibo, WeChat and Taobao, China's eBay-like platform. In this "astroturfing" (meaning "artificial grass-roots") technique for public relations and media manipulation, online Chinese companies employ people to make postings on social media in order to change public opinion. It has been developed into an industry in which a company specializing in internet water army can earn 7.6 million RMB within three months and has made over 2500 transactions.
It's an open secret that China ­employs a veritable army of ­internet commentators to sing the government's praises and attack its critics and it can be clearly visible in this report also. These are only few accounts which have been mentioned in this report but in real there are thousands and lakhs of member in the wumao, Little Pink and internet Water Army of China.
About Author