On August 23, 2021 the hashtag #हिंदुस्तान_धर्मशाला_नहीं_है (translation: Hindustan is not a public shelter) started trending on Twitter. Within a couple of hours the hashtag occupied a spot on India's list of trending hashtags with over 20,000 tweets and retweets.
Timeline of the tweets:
The first instance of this hashtag was used on December 26, 2019 but it came back into circulation in August, peaking first on August 23, 2021 at 8:00 PM and then again on August 24, 2021 at 1:00 PM.
The most used picture along with the tweets is a graphic made of a series of events that these groups of people believe is the series of events that take place when a refugee comes to India. This particular graphic has been used hundreds of times within this hashtag.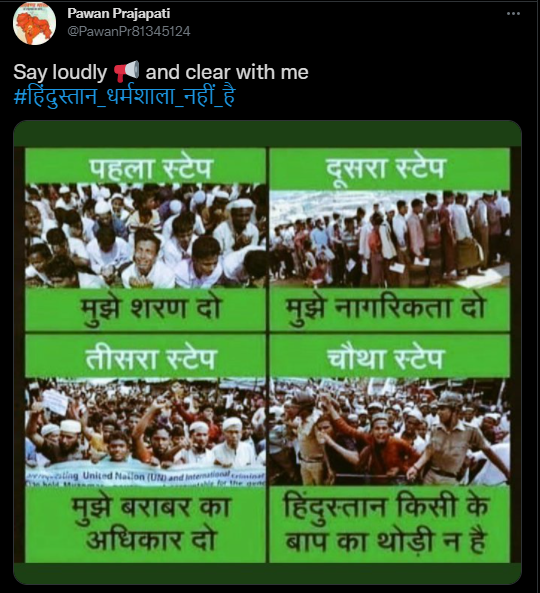 Number of users involved and the total number of original tweets
According to our data, the hashtag was used by 3,175 unique users. The tweets were retweeted over and over again but the total number of unique tweets were 6,023.
Who were the big names that were involved?
A lot of politicians from BJP were tagged in these tweets but the highest number of tags were PM Narendra Modi's account @narendramodi with 133 tags followed by Union Home Minister Amit Shah's account @AmitShah with 101 tags.
The tweets in which the two politicians were tagged were most appeals for the central government to not take in refugees from Afghanistan citing various reasons including them posing a threat to national security, culture and even religion.
While almost all of the tweets were posted by unverified accounts with follower counts ranging from 20 to 200,000 followers, we found that one account was particularly the reason for this hashtag to have such a large reach. @rakesh_bstpyp is a verified account of an individual who goes by the name Rakesh Bharat on twitter and has 72,400 followers. The user posted the tweet mentioned down below at 3:55 PM on August 24,2021 which then received 1,000 likes within a span of an hour. Rakesh Bharat is also followed by a number of verified accounts such as Aastha Channel, Dr Jaideep Arya and Patanjali Ayurved.
Users who used the hashtag the most
The hashtag was used multiple times by the same accounts and we analyzed this data and found that this hashtag was used the most by two accounts namely, @pramodp75787823 who used the hashtag at least 183 times and @Hindumemer1 who used the hashtag 53 times. It must be noted that with the data that we analyzed, @pramodp75787823 tweeted this hashtag more times than it is currently visible on the website as he tweeted the hashtag and then mysteriously deleted some of the tweets.
What are some of the other hashtags that were used?
Some other hashtags were also used along with this hashtag that we have made a graph for down below:
What were the top words used within the hashtag?
The top words used in the tweets were भारत with 469 counts followed by देश with 408 words. Words such as मुस्लिम and muslim also made it to the top of the list.


What caused this hashtag to trend?
With our analysis of the time when the hashtag peaked along with the information within the tweets and comments, we were able to deduce that this hashtag rose on the trending chart almost right after Afghan refugees protested for the lack of support provided by the international community, outside UNHCR's headquarters in India. The images that were also majorly used were of the protest and a picture of an Afghan boy who smiled and posed for the camera after being rescued from his home country.
Blatant use of hate speech and xenophobia on a public platform:
The tweets themselves came from angry citizens of India who took an issue with India taking in refugees from Taliban occupied Afghanistan. The concern that most of these tweets mentioned was that refugees first demand equal citizenship and then say the following world "Hindustan kisi ke baap ka thode hai (Hindustan doesn't belong to anyone's father)", somehow asserting that refugees who eventually take up citizenship of the nation they seek asylum in are in some way second class citizens who cannot demand rights from the country they have a citizenship for. Most of the tweets are particularly targetted to the Muslim community regardless of whether they are from Afghanistan or not. The fear of displacement of Hindus within India is also a major concern. While voicing these concerns, the users engage is blatant use of hate speech against the muslim community as a whole.
Here are a few examples of the tweets that serve as an example of hate speech used by these users:
The concern was not that the refugees will come in and encroach their space but the blatant shunning of an entire community just on the basis of their religious beliefs. The hate speech undertaken by these users is extremely incendiary and can cause real damage to this community that currently exists as minorities in the country. The few examples mentioned above are just a drop in the ocean of hate speech used by those who tweeted with this hashtag.
How many refugees does India really have?
Currently, out of the 18,000 Afghan refugees residing in India, 88% of them are Afghan Sikhs and Hindus. This is a tiny fraction of India's total population.
India is granting e-visas to Afghan refugees still looking to flee the country but the validity of these visas is only 6 months. It is unclear what will happen to them once their visas expire.

The official number of refugees taken in by India during this latest outbreak of Taliban violence has not been disclosed but some sources have quoted that less than 100 Afghan refugees have been accepted into the country.
Online hate speech may turn into physical harm
The tweets within this hashtag display an utter lack of sensitivity and a complete disregard for human life, keeping religion above everything else. This kind of hate speech that targets not only foreign nationals but upstanding citizens of the country is harmful to the fabric of the nation. One can only hope this online abuse does not translate into physical reality when it could cause physical harm to people who have had to leave everything behind in order to survive.
About Author