ICC imposed a fine on Rashid Khan for saying "Jai Shree Ram", Ratan Tata extends financial help by giving 10 crores. Read the Fact Check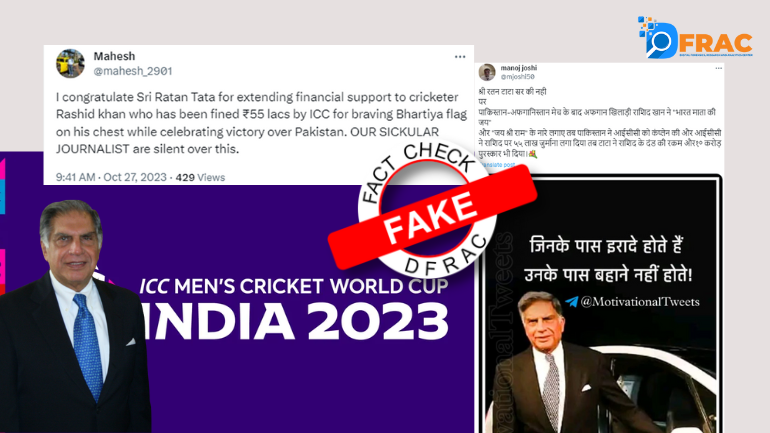 ICC World Cup is going on in India ,recently a match was held between Afghanistan and Pakistan on 23 October in which Pakistan was defeated by 8 wickets. After the match a claim started flowing that "Ratan Tata extends financial help to cricketer Rashid Khan.
After this action against Rashid Khan, Indian Industrialist Ratan Tata not only compensated the penalty but also gave Rs 10 crore to Rashid Khan as a reward. Many users have shared post with this claim.
We also found a YouTube channel that published news in this regard, claiming that Ratan Tata to intervene on the issue of fine imposed on Rashid Khan.
Fact Check
To investigate the truth of the viral claim, DFRAC team searched some keywords. We found clarification on this regard from the official twitter handle of Ratan Tata. He wrote "I have made no suggestions to the ICC or any cricket faculty about any cricket member regarding a fine or reward to any players. I have no connection to cricket whatsoever Please do not believe WhatsApp forwards and videos of such nature unless they come from my official platforms".
Conclusion
It is clear from Ratan Tata's clarification that he neither made any demand from ICC nor given prize money of 10 crore to Rashid Khan. Therefore, social media users claim is fake.
About Author