Fact check: Did RSS worker burn the Indian National flag?
A picture is going viral in social media. In which a person can seen burning the national flag of India. Taking the picture it was claimed that  this person is an RSS worker.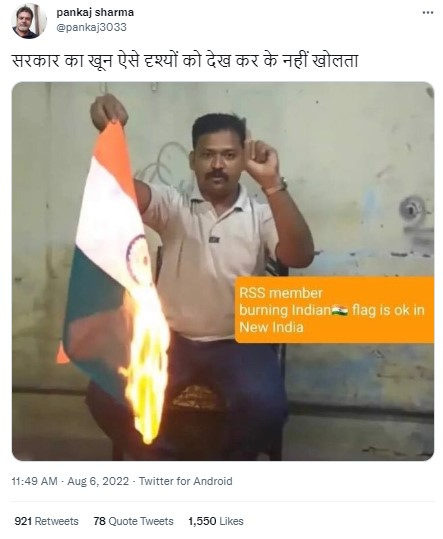 Originally tweeted by pankaj sharma (@pankaj3033) on August 6, 2022.
Sharing this picture on Twitter, the user wrote the blood of the government does not open up after seeing such scene.
FACT CHECK:
To verify the claim,DFRAC did the reverse image search of the viral video. During this we  found a similar picture in a report by a Tamil news portal. In which it was told that a teacher named Prabhupati fired up the flag in protest against not setting up the Cauvery Management Board and also made video about it.
Conclusion:
Therefore, burning of National flag by RSS worker is fake.
CLAIM : RSS worker burn the Indian National Flag.
CLAIMED BY: Social media user.
Fact check: Fake.
About Author