Fact Check: Viral video of students' protest is not from Andhra Pradesh but from Sri Lanka!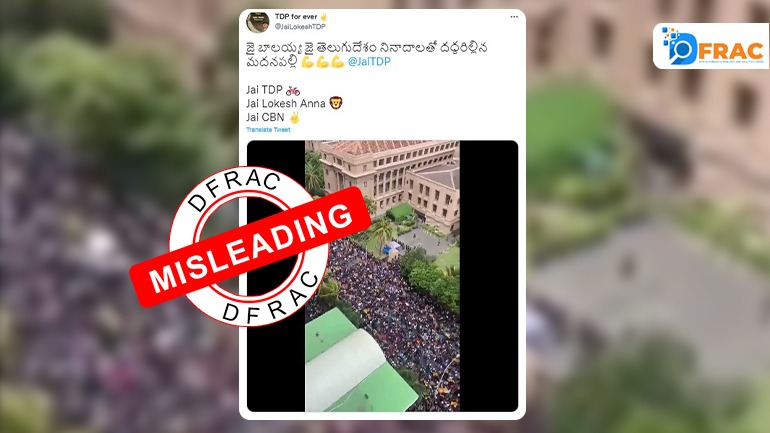 A video of students protesting is going massively viral on social media platforms. It was claimed that this video is of the recent protests in Andhra Pradesh.
A user @JaiLokeshTDP wrote, "Madanapalli resounded with Jai Balayya Jai Telugudesam slogans. @JaiTDP."
It was also claimed that the protesters also raised slogans of "Jai Balaia , Jai Telugu Desam" during the protest.
Fact Check
Latest protest against the corrupt government in Sri Lanka. Presidential Palace is over taken by the protesters.

Will there be such demonstrations in Pakistan against powers behind state-run corruption and death squads? #SriLankaProtests #SriLankaEconomicCrisis pic.twitter.com/gOVQNHiqca

— Dr Taimur Ali Syed (@Taimur_Ali_Syed) July 9, 2022
DFRAC first converted the viral video into keyframes with the help of the InVid tool for the analysis. On reverse search image of keyframe,we found another similar videoon a website named 'Bit Chute'
Giving information about the video on the website, it was told that it shows the protesters occupying the Rashtrapati Bhavan during the economic crisis in Sri Lanka .
Apart from this, our team also got a news report from ' CNN ' . In which it was said that some protesters carrying flags and helmets entered the President's residence in Sri Lanka. Thousands of protesters marched along the sea The doors of the President's Secretariat were broken.
conclusion
So it is clear that the viral video is misleading. Because it is not of the protests in Andhra Pradesh but of Sri Lanka.
About Author