Fact Check: Zee News and Ministers of BJP spread misleading video of Rahul Gandhi on the murder of Kanhaiya Lal
Udaipur Murder case where Kanhaiya Lal, a tailor who was killed by two men over a post in which he supported Nupur Sharma amid the Prophet is now the talk of the town.
Most common people and famous personalities have talked about this issue and consider it a heinous crime.
Meanwhile, the Leader of Congress party Rahul Gandhi's interview is going viral on social media. In the interview, he can be heard denoting the murderers of Kahniya lal as 'kids' and 'children'.
People all over social media are sharing this interview of Rahul Gandhi with anger. Many verified accounts too shared this video of Rahul Gandhi under the various caption.
@ZeeNews telecasted a show on TV on Rahul Gandhi's interview.
@azad_Nishant writes, "Rahul Gandhi is calling the killers of Kanhaiya Lal who are actually jihadis as 'children'.It is only possible in this country that to whom people are not ready to keep a servant in their house, Some people consider him as the candidate for the Prime Minister elections. Go do the defamation case. #KanhaiyaLal (Translates Hindi)
@IamAjaySherawat writes, "Rahul Gandhi full of shamelessness, stupidity, and insensitivity."(Translates Hindi)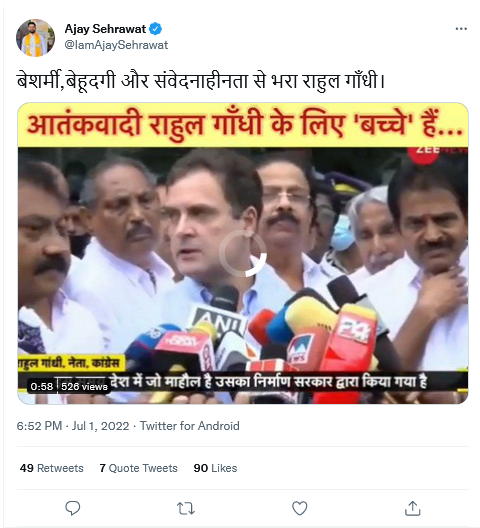 More verified accounts like Abhijeet-iyer-mitra, Himanshu Mishra, kamlesh saini BJP , etc too showed there disappointment and anger over Rahul Gandhi's interview.
Fact Check:
DFRAC used specific keyframes and keywords to investigate the interview of Rahul Gandhi. We found the one on the Youtube Channel called 'Manorama News'
Here, that part can be heard which is getting viral on social media. By listening to his whole interview DFRAC found that Rahul was denoting kids and children to the ones who vandalize his office.
Conclusion:
Rahul Gandhi does not denote the murderer of Kanhaiya Lal as 'kids or children', but to the ones who vandalize his office. Hence, the viral interview has been edited and posted.
Claim Review: Rahul Gandhi use the word 'kid' for the murderers of kanhaiya lal.
Claimed by: Most verified accounts.
Fact Check: Misleading
About Author