#IndianMuslimGenocideAlert and IAMC's anti-India agenda
On April 10, after the Ram Navami violence #IndianMuslimGenocideAlert trended on Twitter. Along with it #IndianMuslimsUnderAttack and #MuslimGenocideInIndia also trended on Twitter with this hashtag. Hundreds of users fueled anti-India violence and police action against Muslims in India under the guise of police action and exaggerated the incidents happening here. In this special report of DFRAC, we will analyze all the trends from different angles.
#IndianMuslimGenocideAlert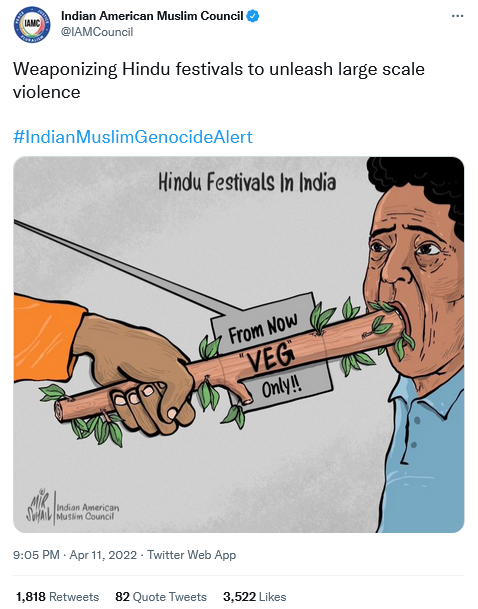 https://twitter.com/IAMCouncil/status/1513541359701012481
The first tweet under #IndianMuslimGenocideAlert was done by the Indian American Muslim Council on 11 April. IAMC describes itself as the largest organization of Indian Muslims in America. This organization was established in 2002 . The organization has 355817 followers on Facebook , 36863 on Twitter and 2150 on Instagram. The organization has also displayed a category on its website regarding Ram Navami violence. In which the video related to violence has been saved through a tweet. Along with this, a report has also been published in the India Genocide News section on #IndianMuslimGenocideAlert on 13th April. The hashtag #IndiaMuslimGenocideAlert trended on Twitter on April 12, when activists, journalists and citizens from India and around the world took to Twitter to share painful images of the day-to-day threats Muslims face from Hindu extremists. IAMC has been presenting the incidents in India in which Muslims, Dalits or Christians are victims, often exaggerating and distorting the facts on the international stage.
Tweets made under #IndianMuslimGenocideAlert, #IndianMuslimsUnderAttack and #MuslimGenocideInIndia are related to violence against Muslims on Ram Navami in the states of Rajasthan , Madhya Pradesh , Karnataka , Goa etc.
#IndianMuslimGenocideAlert –
#IndianMuslimsUnderAttack
#MuslimGenocideInIndia
Timeline
#IndianMuslimGenocideAlert hashtag shows that the tweets began on April 11, 2022 and peaked at the hashtag with over 5,800 tweets and over 1,100 replies by the next day i.e. April 12. However, later the graph went down considerably.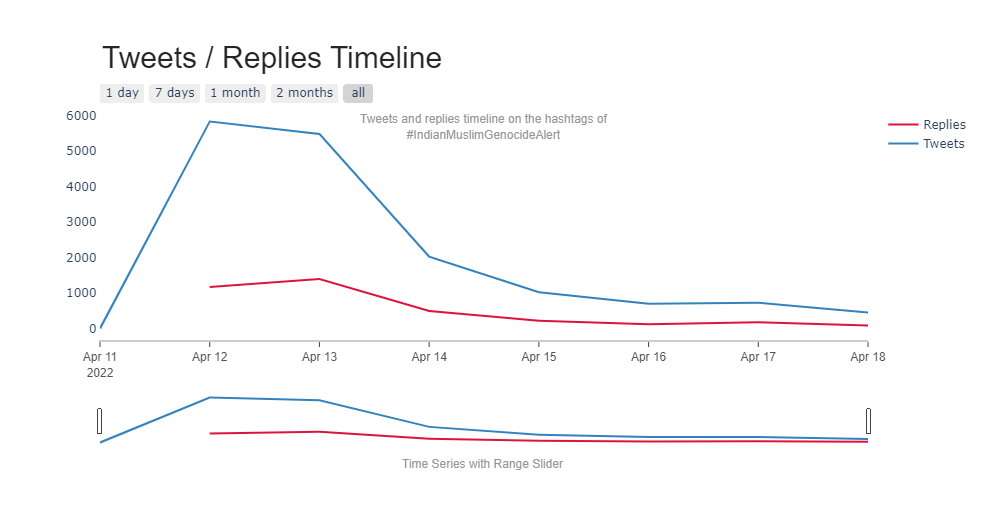 Use Of Hashtags
Below are the hashtags that were mostly used along with the trending hashtags of #IndianMuslimGenocideAlert . Some of the hashtags used include #IndianMuslimsUnderAttack which was used more than 5,300 times, followed by #IndianMuslimUnderAttack more than 2,800 times and then #MuslimGenocideInIndia mentioned about 1000 times.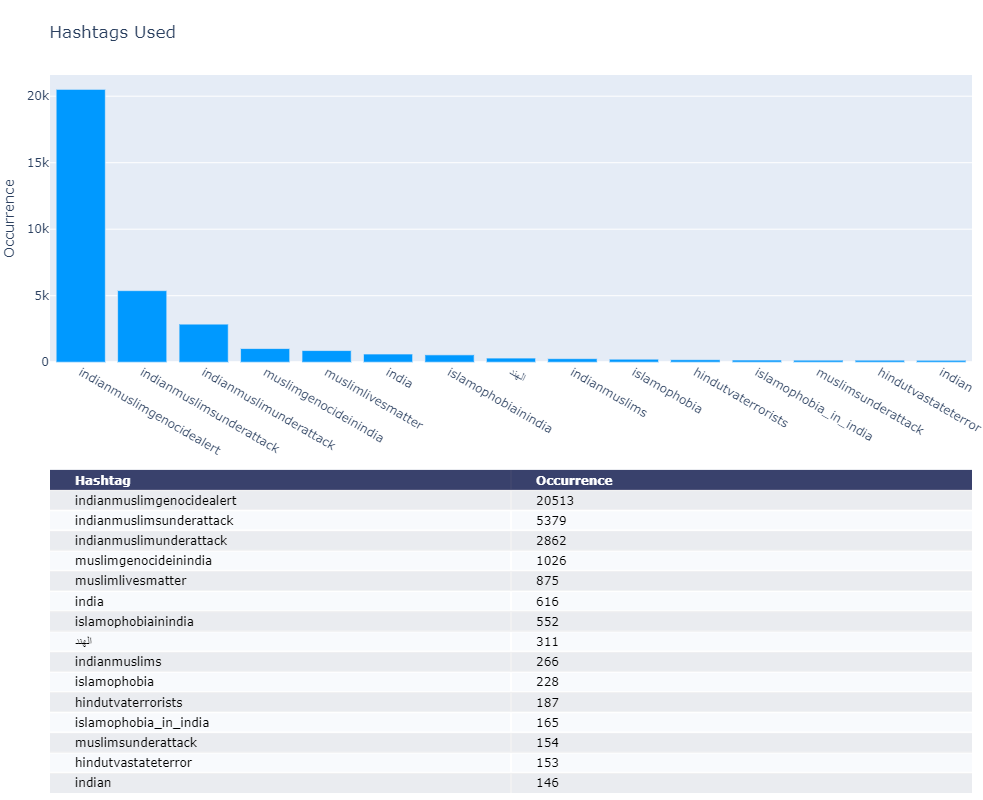 Mention Account
Below is a graph showing users who were mostly tagged in tweets under this hashtag . @OIC_OCI mentioned  more than 475 times , followed by @UNHumanRights , @UN , @LadyVelvet_HFQ was mentioned 437 , 320 , 305 times respectively .
Users Most Interacted
The graph shows the accounts with the most tweets or replies on the hashtag. @zubz02 has the highest number of tweets with 150 tweets on the hashtag , followed by @TrueStriver_X with 135 tweets followed by @Anish_Shaikh_ with 93 tweets.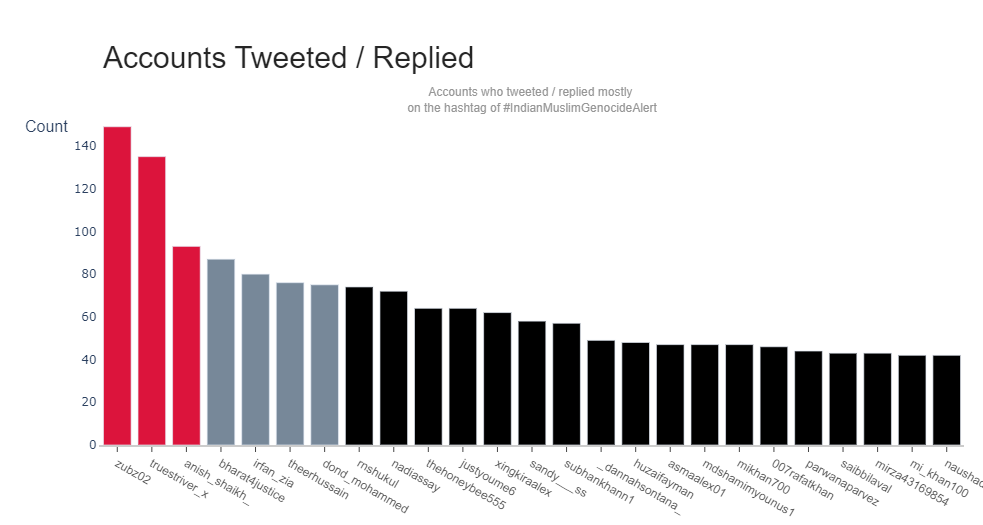 Account Creation Timeline
Creation timeline of the users who tweeted or replied to the hashtag is given below. With an analysis of over 8,500 users , we found that around 53 users had created new accounts on 12 April 2022 , the same day the hashtag was at its peak.
User's location on the world map
The World map below shows that the majority of users who interacted with the hashtag were from India , with around 2,950 users. After this more than 285 users were from Pakistan. More than 135 users were from USA and 69 from UK and UAE.

Verified Users
The graph below shows verified users who tweeted on the hashtag. Some of the top verified accounts include @RanaAyyub , @_sayema , @MALHACHIMI , @cjwerleman , @Mdzeeshanayyub , @sushant_says , @KhaledBeydoun
Khalid Beydoun
Professor Khalid A. Beydoun is a law professor , author and public intellectual. He serves as Professor of Law at Wayne State University, Scholar-in-Residence at the Berkman Klein Center at Harvard University Having more Keith is associate director of the Center for Civil Rights. He also writes columns for the Washington Post from time to time.
Posts by Khalid Baydoun on the hashtag
Tweets from non-verified accounts
Unverified accounts as well as non-verified accounts. Some of the top accounts include @muslim2day , @Dilsedesh , @MFaarees_ , @pathan_sumaya , @BassamAlshatti , @_UmangPanchal_ , etc.
Types Of Account
Below is the percentage of types of accounts. Most of the percentages are from non- verified accounts. In which 99.3% and 0.73% are also verified accounts .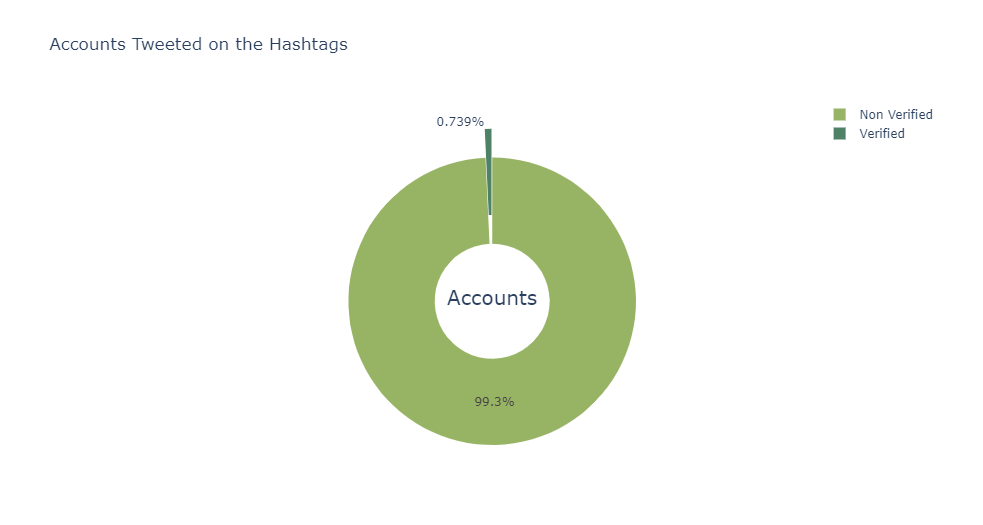 Pakistani Accounts Who Tweeted
The graph below shows users who interacted with the hashtag and belonged to Pakistan. Some of the top accounts include @Waqtnewstv, @Waqtnewstv , @ahsan_jehangir , @TrimiziiiSyeda , @ihtjk1 , @idaniyalsheikh , @hafizsaadriaz , @fizzadnd , @mustpakistan1 etc.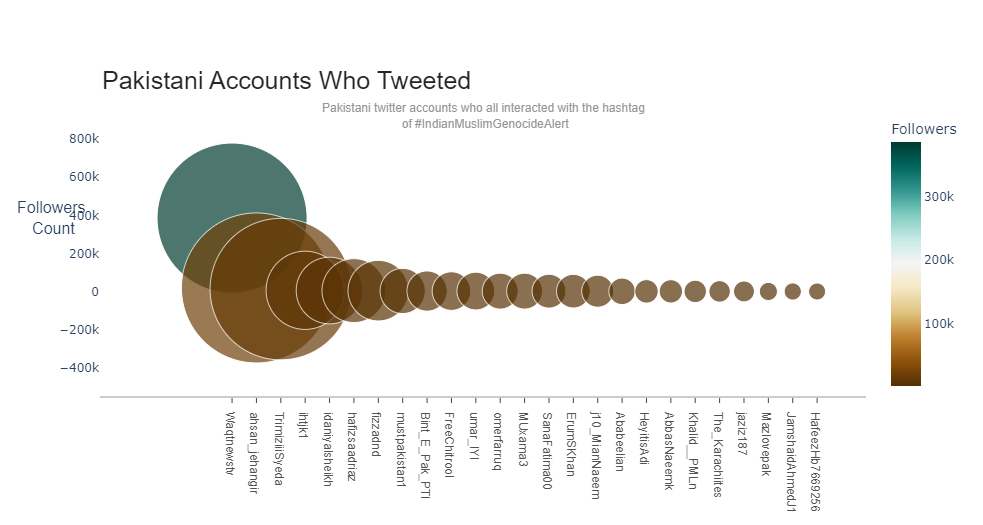 Wordcloud
The word cloud below shows which words were used most often in tweets containing this hashtag. Some of the words include , , "Muslims", "Genocide", "Police", "Secular", "Hindu", "Indian", "Attacked", "Stop " etc.
Conclusion :
In protest against the communal violence in India , hashtags like #IndianMuslimGenocideAlert , #IndianMuslimsUnderAttack and #MuslimGenocideInIndia were trended on Twitter by various organizations and tried to tell that the Muslim community in India is a victim of Hindutva. However, the organization and individual/s involved in the trend exaggerated and distorted the facts. Organizations like IAMC are always on the lookout to find a Muslim issue and spread the anti-India narrative under its guise.
About Author