India is a land of different cultures. Many diverse powers including the Sultanates, the Mughals, and the English had ruled India for centuries. The beauty of this land is no matter which Kingdom is ruling, people of different cultures and religions have survived and flourished for thousands of years.
Now, we are the largest democracy in the world. We are ruled by our people for the benefit of our people. Different parties make lots of promises about how they will work towards the benefit of society to lure voters. But, Politics in India revolves largely around caste and religion.
However, some people in the guise of religion spread hate. Today in our exclusive report we will bust one such person i.e Yogi Devnath.
Who is Yogi Devnath?
Yogi Devnath as mentioned in his Twitter bio is In-charge Hindu Yuva Vahini Gujarat Pradesh, a Member of All India Sadhu Samaj, and President Kutch Sant Samaj. Moreover, Devnath says he is associated with RSS and BJP for more than 25 years. As of now, he has 1.3 million followers on Twitter and is a very active social media person. Furthermore, the agenda of Devnath is pretty clear, he wants to make India a Hindu Rashtra.
To fulfil his agenda, he takes the help of his Twitter account. Surprisingly, his Twitter account was previously run by a username of girl, MitaliShah121. After getting an ample number of followers this account converted to Yogidevnath2.
Fake news spread by Yogi Devnath
There is a plethora of fake news spread by Yogi Devnath on social media. It seems that posting absurd things and claims is one of his hobbies. In the same vein, Devnath falsely accused Akhilesh Yadav that he has signed a mercy petition for Kasab. Moreover, he shared an edited image of a mosque and questioned the Maharashtra government when they will demolish this mosque. Similarly, Yogi Devnath tweeted a fake claim that this happened after 32 years and thanked PM Narendra Modi and Home Minister Amit Shah. Furthermore, he wrongly claimed that the grand alliance candidate from CPI-ML Aaftab Alam is one of the accused in the 2013 Patna bomb blast case.
Moreover, scrolling his Twitter account, we can see many hateful tweets. We have segregated some of his tweets to analyze their intent.
Wordcloud
Wordcloud tells the words that were used the maximum number of times in the tweets. This Wordcloud of supporters of yogi devnath includes words like, "Punjab Rising with Modi", "Vote BJP", "Punjab Rising", "Hindu", etc.
Attempts of polarizing Hindu votes
From his, Twitter handle, he has tried to polarize Hindu votes. He resorts to Rammandir, the Vishwanath corridor, and the big propaganda of Hindutva to fulfill his agenda. Looking at some of his tweets we can understand how he is trying to provoke Hindus. In a tweet, he wrote, "The picture of Shri Ram Lalla on the CM's office will also be removed when Yogi Ji will leave. It's a small thing but worth considering."
Similarly, in another Tweet, he wrote," Hindus you don't need to lift a  stone in hand just press the  lotus ( ? ) button rest Modi yogi will see." In one of his tweets, he had described UP Elections 2022 as a Dharm yuddh.
| | |
| --- | --- |
| | |
|   | |
| | |
| | |
| |   |
Hashtags Used by Yogi Devnath
Yogi devnath has used many hashtags, some of them include, #फिर_आ_रहे_हैं_महाराज_जी, #योगीदेवनाथ_अवतरण_दिवस, #NavaPunjabModiNaal, #जय_श्रीराम, #योगी_आएगा_भगवा_छाएगा, etc.
 Devnath's contribution to Trending hashtags
He tried to amplify many hashtags like #योगी_आएगा_भगवा_छाएगा, #हिंदुओं_की_आवाज_योगी, #एक_ही_विकल्प_मोदी,  #Justice4KashmiriHindus etc
Hashtags Used Mostly
The supporters of Yogi Devnath used many of his hashtags to amplify his agenda. Some of them include, #PunjabRisingWithModi, #PunjabWillDevelopWithModi, #गर्व_से_कहो_हम_हिन्दू_हैं, #फिर_एक_बार_योगी_सरकार, #upyogi_संकल्प, etc.
Spreading hate
British had used the policy of divide and rule to make us weak so that they can easily rule on us. Apparently, Devnath is heavily inspired by them and uses hate as his major tool to create a divide between different communities.
In his tweets, he used demeaning words like Kejruddin, Pappu Khan in order to relate these leaders to a certain community. By doing so he tries to convey that all these leaders are pro-Muslim and they are only concerned about their matter.
Further, he had tweeted a lot in support of Kalicharan Maharaj. In our EXCLUSIVE Report: Analysis of Communalism Spread on social media On the Arrest of Kalicharan Maharaj, we have already covered the analysis of communalism spread by Kalicharan.
| | |
| --- | --- |
| | |
| | |
| |   |
| | |
Verified Followers
Yogi Devnath has more than 1.3 million followers on Twitter, some verified accounts that follow him include, @pradip103, @Sadhvi_prachi, @ramkadam, @ajrajbjp, @AtulKumarBJP, etc.
Accounts Tweeted / Replied Mostly
Below are the accounts that tweeted and replied mostly on the hashtags of Yogi Devnath. Some of them include, @GourraveS tweeted more than 280 times followed by @prasad_perla, @AmbikeshBJP  with more than 130 and 65 tweets respectively.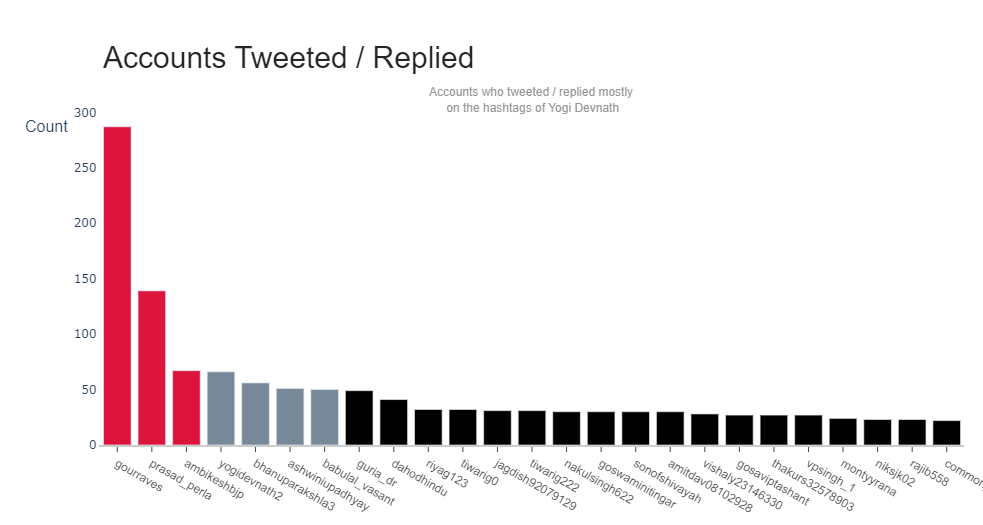 Accounts Mentioned
Accounts that were mostly mentioned or tagged in the tweets done by supporters of Yogi Devnath include, @YogiDevnath2 which was mentioned the most with more than 1,500 mentions. Then, @beingarun28 was mentioned more than 345 times. Further, @myogiadityanath, @narendramodi, and @kapilmishra_ind were mentioned with 240, 82, and 72 tags respectively.
Conclusion
That is to say, Yogi Devnath has used his Twitter handle very efficiently to generate hate between different communities. These actions are a threat to a very fundamental idea of secularism.
Further, we live in the 21st century. Caste or Religion based politics have outlived their lives. We need to come out of it and focus more on many other important things like development, education, and equality. And, people who are only bothered about a certain community and try to demean others can only spread hate and violence, not peace and development.
About Author