Fact Check: Did Jayant Singh Chaudhary give the statement of holding no responsibility towards the Jaat Community?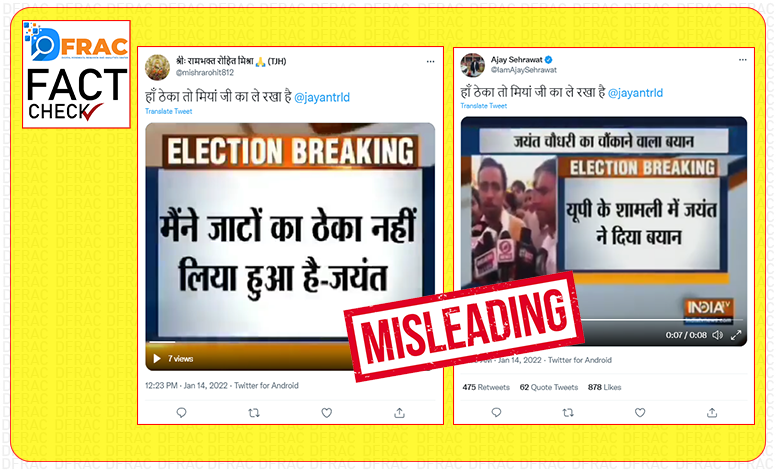 Having half information can give the sight of misleads? Yes, it can we have a video that is getting viral on social media platforms. The video is of Jayant Singh Chaudhary Chief of RLD, Rashtriya Lok Dal. In the video, Jayant Singh has been captured giving a statement about how he does not care about Jaats and he holds no responsibility towards them even after coming from the Jaat hereditary. Many users got offended by his statement and showed their aggression on social media!
Users gave it an angle where Mr. Chadhaury was not supporting the Jaat community but Muslims as the caption of Ajay Sehrawat states, "हाँ ठेका तो मियां जी का ले रखा है @jayantrld".
हाँ ठेका तो मियां जी का ले रखा है @jayantrld pic.twitter.com/YumqjrAxiV

— Ajay Sehrawat (@IamAjaySehrawat) January 14, 2022
हाँ ठेका तो मियां जी का ले रखा है @jayantrld pic.twitter.com/Z1kMFNnRqj

— श्रीः रामभक्त रोहित मिश्रा 🙏 (TJH) (@mishrarohit812) January 14, 2022
Fact Check
After digging deep into the story, we got the whole video which was covered by IndiaTv in March 2019. Only if one will see the whole video would get to know what Jayant Singh actually meant. Jayant Singh Chaudhary did say that he holds no responsibility towards Jaat as he is more concerned for the farmers of India. Users only recorded and posted one part of his statement. The other one describes his meaning clearly. Jayant Singh Chaudhary gave this statement in the time when he has fighting elections from the side of Mayawati and Akhilesh Yadav back in 2019 at Shamli.
Conclusion: The claims are misleading
Claim Review: Did Jayant Singh Chaudhary give the statement of holding no responsibility towards the Jaat Community?

Claim by: Ajay Sherawat by Twitter account.

Fact Check: Misleading
About Author