The truth behind Sitaram Yechury's tweet calling Mr. Xi his boss
Photoshop has become a weapon to claim false allegations and prove them with a picture. You may have seen many forgery cases on social media done with the help of Photoshop. Sitaram Yechury, leader of the communist party, member of SFI,(Student Federation of India) has always taken active participation in politics. Recently a tweet has been ignited of Mr. Sitaram Yechury where he is found posting a picture shaking hands with China's President Xi Jinping and tweeting, "It's a pleasure for me to meet my boss" on Twitter.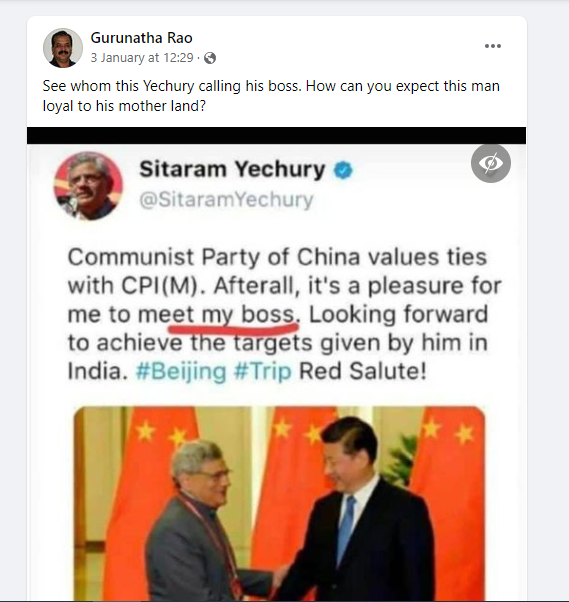 Fact Check
As we can see in the post, the date of the tweet is 20 October 2015 however Sitaram Yechury joined Twitter on the 27th of October, 2015.
CPI(M), Communist Party of India also gave an explanation regarding fake tweet and proved it wrong. They have also indirectly blamed the Modi government for spreading the forgery.
Stop Lie Manufacturing
Another example of sanghi dirty tricks@SitaramYechury joined Twitter on Oct 27, 2015. This fake tweet is dated oct 20.
Because CPI(M) has exposed Modi's doublespeak, sanghis have become desperate. Where is the order to do all these things coming from? pic.twitter.com/ZYCkq07dHv

— CPI (M) (@cpimspeak) June 22, 2020
The image is from 2015 when Mr. Yechury went to the Chinese capital to participate in an international conference of Asian political parties as per the article in The Hindu.
Conclusion: The article is an example of how renowned personalities are defamed for the sin they have not even committed. Hence the news is fake and check before spreading any news.
About Author