Prithviraj Chauhan's daughters had torn Khwaja Garib Nawaz into pieces? Read, Fact Check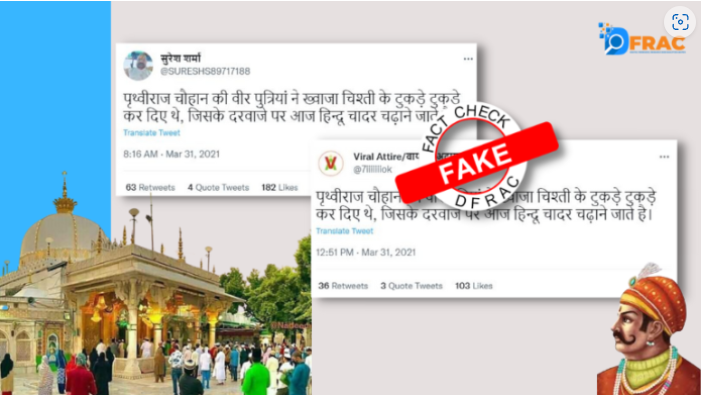 Some users on social media are claiming that Prithviraj Chauhan's daughters had torn Khwaja Garib Nawaz into pieces. The Biggest and most famous Sufi Of The Chishti chain in India, Hazrat Khwaja Moinuddin Hasan Chishti as Khwaja Garib Nawaz.
A user named Suresh Sharma tweeted- " The brave daughters of Prithviraj Chauhan had cut Khwaja Chishti into pieces, at whose door today Hindus go to offer chadar." ( English Translation)
Source: Twitter
Meanwhile, many other users have shared a similar claim-
Source: Twitter
'
Source: Twitter
Fact Check:
To know the reality of the viral claim, the DFRAC team first came to know how many sons and daughters Prithviraj Chauhan had. The team searched on the Internet with the help of some keywords. We found a biographic article published by starsunfolded.com, according to which Prithviraj Chauhan had only one son, Govind Chauhan.
Source: starsunfolded.com
Then the DFRAC team did a Google search to know about the death of Khwaja Garib Nawaz. We found a Wikipedia page, in which according to the information given, on 15 March 1236 i.e. 4 and 6 Rajab 633 AH, Khwaja Saheb went inside his room and started reading the Quran-e-Pak, his voice was heard throughout the night, but his voice was not heard in the morning. When the room was opened, they had gone to heaven, and the only line shining on their foreheads was "مابائئال لہلēلاب ب بēب ابب ب ااēēابب اب ئئ Hindi ئ ئلēلل " [Mata Habibullah fi Hubbillah] which translates English as follows, "He was a friend of Allah and left this world to seek the love of Allah."
Source: Wikipedia
It is clear here that Khwaja Garib Nawaz's death was natural. He had no meeting with Prithviraj Chauhan's daughters and it was not possible because Prithviraj Chauhan's daughter is not mentioned in the child.
Chishti:
The Chishtia method was started by Abu Ishaq Shami in the Iranian city of "Chasht", so the name of this method was "Chishtia". But he had not reached the Sub-Continent of India. Khwaja Moinuddin Chishti Ajmeri established and propagated this Sufi method here. This method was spiritual, India, being a spiritual country, understood, welcomed, and adopted this method. Religiously, this method is very peaceful and full of religious disturbances, due to which they have more problems in Indian society. Their discussion spread far and wide, and people would come to their court from far and wide, and get religious knowledge. The dargah of Hazrat Khwaja Garib Nawaz is still the center of human unity. Here, people of every religion and every class come and find their wishes.
Conclusion:
It is clear from this fact check of DFRAC that the claim of social media users that Prithviraj Chauhan's daughters had torn the famous Sufi Hazrat Khwaja Gharib Nawaz into pieces is false, which has been done with malicious intent because Prithviraj Chauhan's daughter is not mentioned in the child.
About Author