Fact Check: Did Nadav Lipid apologize and call 'The Kashmir File' brilliant?
The Israeli Film maker and critic termed the movie The Kashmir Files, 'a vulgar Propaganda.' Soon after his statement a massive controversy rose and he had to face severe criticism for his statement. Meanwhile, a piece of news is going viral on the internet that he has apologized for his behaviour.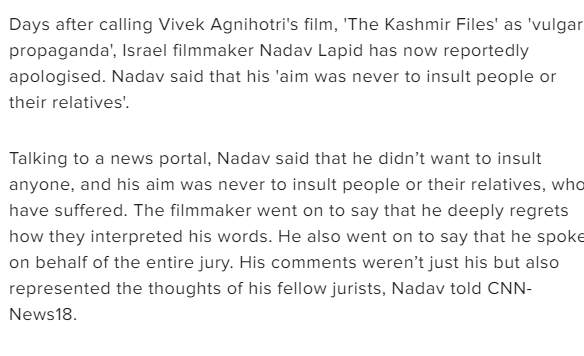 Another piece of news that, he called the movie 'brilliant' is also going viral on the social media. A verified Twitter user Sreejith Panickar wrote, "It's a brilliant movie, says Nadav Lapid about #TheKashmirFiles. Communists are U-turn Rajas!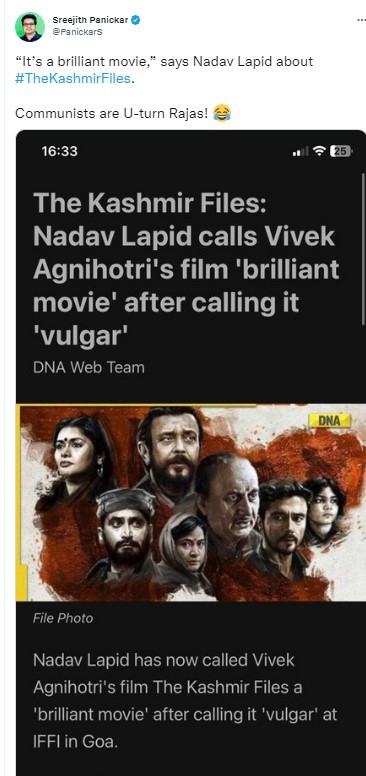 Fact Check
On keyword search the DRAC team found a YouTube video of an interview of Nadav taken by Journalist Karan Thapar. The video was uploaded by the wire with the headines, "Ashamed by Israeli Ambassador's Outburst; I had Duty to Speak Out About 'Kashmir Files'—Nadav Lapid"
In the description of the video, it was mentioned that, "In a 32-minute interview to Karan Thapar for The Wire, from his residence in Paris where he's returned, Mr. Lapid repeatedly and flatly denied that he had in an interview to India Today, reported on the Hindustan Times website, called The Kashmir Files "brilliant". He also clarified that in a separate interview to CNN-News18 he was only apologizing for hurting the feelings of people who died in the killings in Kashmir or to their relatives but he was by no means apologizing for criticizing the film.
Further, at 11:27 minutes of the vide he can be heard saying that, "I completely back behind my statement about the movie.
Conclusion
Therefore, from this fact check it is clear that the statement of Nadav is being misquoted.
About Author