A post is becoming viral on social media. Social media users are sharing this post by making 7 threads. In this post, users are claiming that in Kaila Bhatta village of Ghaziabad, earlier there were many families of Yadav caste of Hindu community. Then a Muslim family came there. Gradually the number of Muslims increased and Hindus decreased.
Users claim that there was a time in the village when Hindu families, due to the harassment and bullying of Muslim boys, had to leave the village. Not a single Hindu family lives in that village. Users are sharing this post along with many other types of claims.
https://twitter.com/Modified_Hindu 8/ status/ 1554876321863536640 ?s= 20 &t=OrwumX 4 Dd 0 DbDN 8 EsjweLg
Fact Check:
To check the veracity of the viral post, we searched on Google about Kaila Bhatta village in Ghaziabad. We found a report published in Dainik Jagran. According to this report- "In the book of historian Vignesh Kumar, it has been written about the construction of other government buildings including Connaught Place from the soil of Kaila kiln. The Kaila Bhatta area of Ghaziabad was settled in the year 1740 during the Mughal period. In this, the land of Kaila village was 52,500 bighas, which extended up to Model Town. Apart from this, Makanpur was the only village in the entire Sahibabad. Residents of Kaila village say that kilns were built outside Kaila village to provide employment to the villagers and to settle in the city.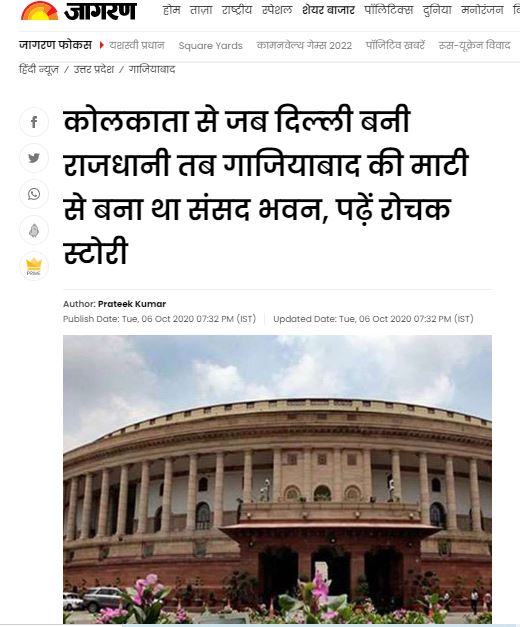 It is also written about this village – "This village had become famous as Kaila Bhatta. The people of Kaila say that they got information about this from their older generations. Local residents say that as the population increased, the kilns coming in the way of development were demolished and their houses were built there. The kilns were built on the land near the Markaz mosque, which was owned by Mirza Saheb who hired Ibbu Khan to oversee Kaila. Later Ibbu Khan was called the owner of the Kaila Bhatta. Even today some members of Ibbu Khan's family live in Ghaziabad.
At the same time, DFRAC Team called up Advocate Mohsin Alvi, a resident of Kaila Bhatta village. Mohsin told that Hindu families still live in the village, which has many castes including Yadavs and Dalits. Therefore the claim on social media is false. On the other hand, former councilor of Kaila Bhatta, Farooq Sethi said that the claim on social media is wrong, as people of the Muslim community have been living here since the very beginning and when it comes to Yadav families, many Yadav families still live here.
Conclusion:
The claim on social media about Kaila Bhatta village is false. Because Hindu families still live in the village and there were Muslim families even when this village was settled by the Mughals.
Claim– 1 Muslim was settled in the village by Hindus, now Muslims are dominating, Hindus migrated
Claimed by– Social media users
Fact Check – Fake
- Advertisement -
Error 403 The request cannot be completed because you have exceeded your quota. : quotaExceeded