Farmani Naaz got the limelight after signing the Shiv Bhakti song ' Har-Har Shambhu' and getting caught in the controversy related to it. The controversy was raised after the fatwa of the alleged Maulana of Deoband. At the same time, there is a discussion on social media regarding the conversion of her religion.
A Twitter account named Farmani Naaz tweeted that- " My ancestors were Hindu before, that's why I sang the hymn " Har Har Shambhu," and will soon join Hinduism! ,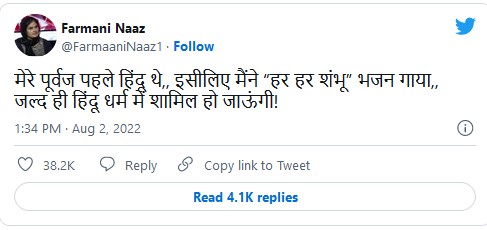 At the same time, social media users are also claiming that Farmani Naaz is going to adopt Hinduism. Users are claiming she has said that her ancestors were Hindus, so she too will soon join Hinduism. While sharing her song, a user wrote-
https://twitter.com/yogeshDharmSena/status/1554718068533649413
At the same time, many other users have also made the same claim
https://twitter.com/Akhiles32801135/status/1554714552817684481
https://twitter.com/Bholana86984035/status/1554447021427159045
https://twitter.com/IBitturaj/status/1554389582417838080?s=20&t=82bRK0jK3C1T9TLEia5AAw
Fact Check:
To know the truth behind Farmani Naaz's announcement of converting to Hinduism, we started investigating Farmani Naaz's social media accounts. We checked her official verified Facebook account. We found a video here. In this video, Naaz is clarifying that people have made a fake claim by creating a fake ID on her Twitter. She said that everyone has their own religious beliefs, they are part of the religion they belong to.
On the other hand, she has told about her official Twitter ID in this video. The official ID of singer is @farmaninaaz 786 . On this ID too, Farmani has posted a video with an explanation.
Conclusion:
From this DFRAC fact check it is clear that she has not declared to convert to Hinduism. The post of adopting Hinduism has been done from his fake account. Hence the claim of social media users is false.
Claim- Farmani will adopt Hindu religion
Claimant- Social media users
Fact Check – Fake