A music video is going viral on social media sites with the claim that it is the official song for FIFA world cup 2022 which will take place in Qatar.
The viral song sounds similar to Shakira's "Waka Waka" song from the year 2010 edition.
Many Facebook users posted the video with different captions.
The caption reads, "FIFA World Cup Qatar 2022 Official Song."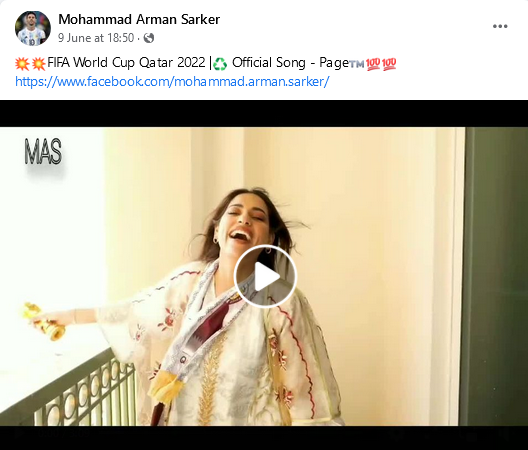 Fact Check:
DFRAC reverse searched on the viral song and found it uploaded on a YouTube channel on February 7, 2020. It was titled "Fifa World Cup 2022 SONG: Waka Waka in Qatar".
The YouTube channel "Qatari Music Vibes" also declared this song as a parody of the World Cup 2010 song sung by Colombian singer Shakira.
Further, it states that No copyright infringement is intended, all rights belong to FIFA and Shakira.
Conclusion:
Hence, it is clear from our fact check that the song is just a parody.
Claim Review: the reality behind the viral official song of FIFA world cup 2022
Claimed by: social media users.
Fact check: fake.
- Advertisement -