Fact Check: Did an Army Officer aspirant commit suicide due to the Agnipath scheme?
An image of cutting off a newspaper is getting viral on social media sites. In this cutting a news report of an army officer is provided, who ends his life. It is claimed by the social media users that the army officer commit suicide because of the new Agnipath scheme launched by the government.
The viral post shares the screenshot of a newspaper cutting with a Hindi headline 'Father, I Could Not Become A Soldier in This Life, I Will Definitely Become One in Next Life'.(translates Hindi)
In the Agniveer scheme the new recruits, called the Agniveers, will be recruited on a contract of four years and 45,000 to 50,000 personnel will be recruited annually. However, only 25% of these will be retained after four years. Those retained will be allowed to continue their services for the next 15 years and will be able to avail benefits like health insurance. The government had earlier set the upper age limit as 21 and was changed to 23 on Thursday amid massive protests which turned violent in Bihar, Uttar Pradesh, Madhya Pradesh and Haryana.
Many social media users are sharing the image of newspaper cutting with agitation.
A user on Facebook writes, "Bapu……! I could not become a soldier at this birth, I will definitely become one in the next! Where he used to practice these words, he left them written on the sand!* Every year four and a half lakh youth are preparing for army recruitment! 200000 youth over age due to non-recruitment for 3 years!* The state is at number one in unemployment!* If the recruitment of 41000 posts was canceled in the past, then the dreams of 1200000 applicants were broken!* Center is not getting army recruitment and youth is disappointed and desperate due to paper leak and cancellation of recruitment in the state! Who is the culprit of this death???????"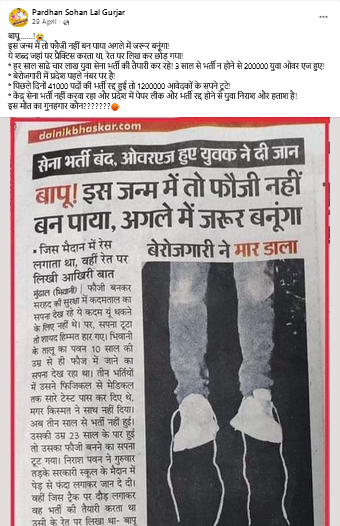 Fact Check:
We at DFRAC reverse searched the image to check the authenticity of the viral image, and found the same report published on various news sites like Today Haryana and Indian Express newspaper dated 29th April 2022 and 30th of April respectively.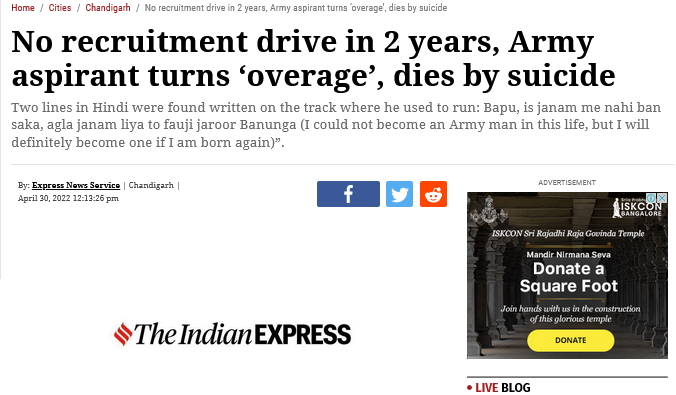 According to the news report, the aspirant ended his life in Bhiwani, Haryana after he was unable to secure a position in the army after multiple attempts.
Conclusion:
The death of a young army aspirant is being falsely linked  to the Centre's Agnipath scheme.
 Claim Review: an Army Officer aspirant commit suicide due to the Agnipath scheme.
Claimed by: social media users.
Fact Check: misleading
About Author