A piece of news is going viral on the social media sites that on the eve of the death anniversary of the founder of  Bharatiya Kisan Union (BKU) on May 15, 2022,  Mahendra Singh Tikait. Rakesh Tikait was expelled from the BKU. And, Rajesh Singh Chouhan has been elected as the new President.
Tagging the Tikait brothers and the official BKU, SR. Anchor of ZEE MEDIA Zeenat Siddiqui tweeted," #news doduble split in the Bharatiya Kisan Union. Rakesh Tikait  was expelled from BKU. Naresh Tikait was dismissed from the post of National President. Rajesh Singh Chauhan was made the new national president."
Fact Check:
On our fact check analysis, we found that several media houses including News18 published news of Rakesh Tikait with the similar claim that BKU has expelled Rakesh Tikait and Naresh Tikait from the organisation.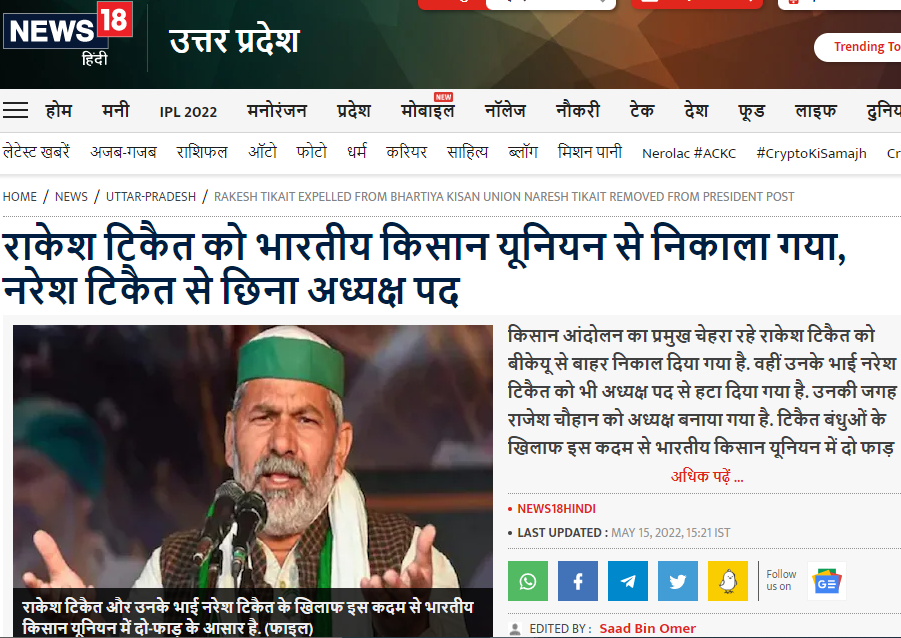 Further, our team found a press note from the account of Rakesh Tikait on 15th May. Along with the note he wrote, "Attacking the farmers' interests, some people have made a separate organization from the Bharatiya Kisan Union. Such elements opposing the interests of farmers have been dismissed from BKU with immediate effect. Mahendra Singh Tikait be immortal."
किसान हितों पर कुठाराघात करते हुए कुछ लोगों ने भारतीय किसान यूनियन से अलग कथित संगठन बनाने की घोषणा की है। किसान हितों के विरोधी ऐसे तत्वों को तत्काल प्रभाव से बीकेयू से बर्खास्त किया गया है।
महेंद्र सिंह टिकैत अमर रहें
किसान एकता जिंदाबाद@ANI @PTI_News @ndtv @AmarUjalaNews pic.twitter.com/NBFBfshL78

— Rakesh Tikait (@RakeshTikaitBKU) May 15, 2022
Further, according to the news of the Indian Express, the next day i.e on 16 May 2022, the rebel leaders of BKU announced a new organization by the name of  BKU (Apolitical) at Ganna Santhan in Lucknow, with Rajesh Singh Chauhan as its first president. Chauhan has been appointed. However, a few days ago, Naresh Tikait met these farmer leaders and tried to negotiate with them.

conclusion:
Therefore, it is clear from the fact check that not Rakesh Tikait from Bhartiya Kisan Union (BKU). But, the farmer leaders who have formed the new organization were expelled from BKU for spreading misleading propaganda and found to be involved in wrong policies. Hence, the claims of Zeenat Siddiqui  is misleading.
Claim: Rakesh Tikait was dismissed from BKU.

Claimant:  Zeenat Siddiqui  and Social media users

Fact Check: Misleading