A picture is becoming massively viral on social media. In which a mosque can be seen with the rubble of the collapsed minarets. Referring to the pillars seen in the picture, it was claimed that the remains of the Veerabhadreshwar temple came out of the mosque.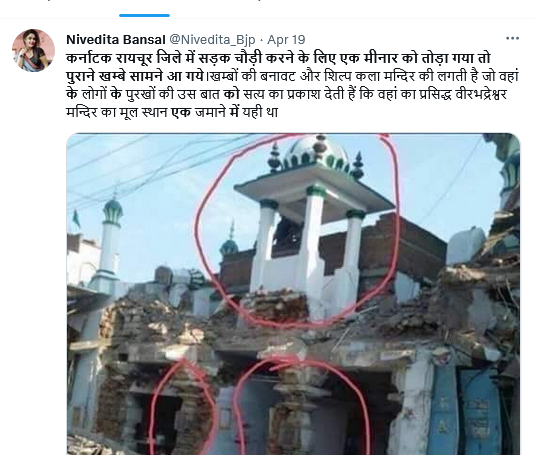 A user on Twitter shared the picture and wrote that "Old pillars came to the fore when a tower was demolished to widen the road in Raichur district of Karnataka. The structure and sculpture of the pillars are similar to those of the temple, which gives light to the truth of the ancestors of the people there that this was the original place of the famous Veerabhadreshwar temple at one time.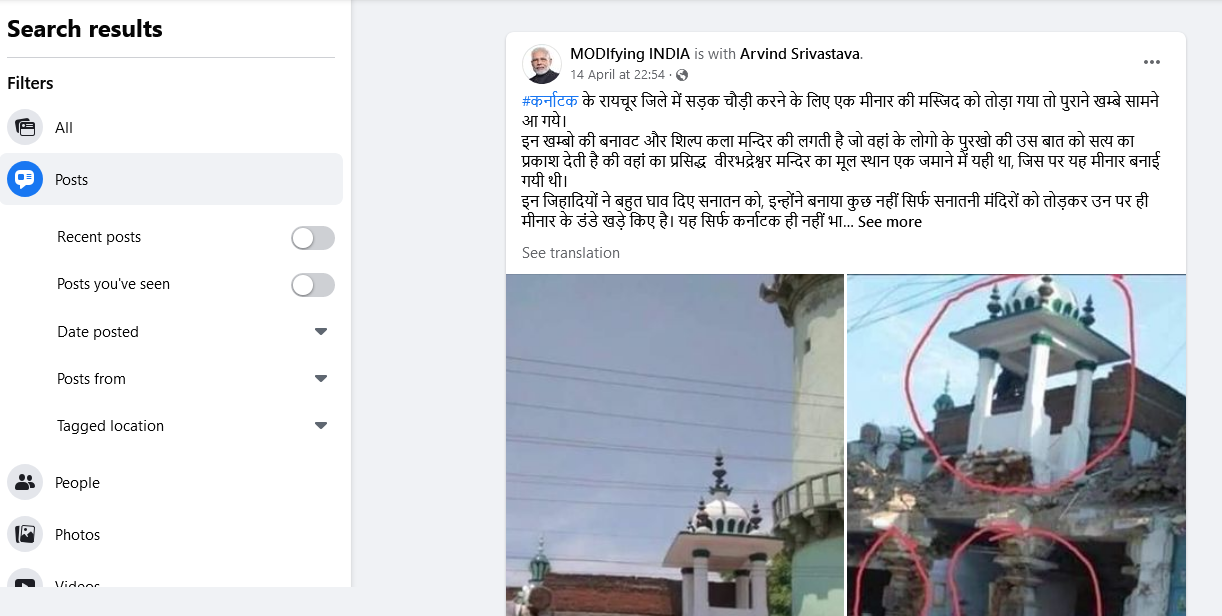 Similar claims were made on Facebook as well.
Fact Check
ರಸ್ತೆ ಅಗಲೀಕರಣದ ವೇಳೆ ಮಸೀದಿಯಲ್ಲಿ ಹಿಂದೂ ದೇವಾಲಯ ಪತ್ತೆ https://t.co/FJTcBoNHex #Raichur pic.twitter.com/1760AHn9eK

— PublicTV (@publictvnews) April 11, 2016
To check the viral picture, we did a reverse search of the picture. Which showed that this picture is from 2016. In this regard, we got a tweet from Public TV. In which the caption was given by posting this picture that during the widening of the road, a Hindu temple was found in the mosque.
On doing a keyword search on Google about this, we found a fact check by Alt News. In which the former District Magistrate posted in Raichur was quoted as saying that the information being shared on social media is wrong. When the demolition took place in Raichur, there were few traditional buildings. A minaret, which is a very old structure, was one of the buildings that was demolished for road widening. Such old structures have a variety of carvings and it cannot be concluded that it was originally a temple made of just one pillar. Some groups tried to make this claim, but when they were opposed, they did not pursue the claim."
Conclusion:
Therefore, it is clear that the claim that the remains of the Veerabhadreshwar temple were found when the minaret of the mosque was demolished during the widening of the road in Raichur, Karnataka is misleading.