A screenshot of a purported tweet by former Congress President and Kerala's Wayanad MP Rahul Gandhi is going viral on social media. In that, he was quoted as saying that at this time Pakistan can be bought for less than 1 billion dollars?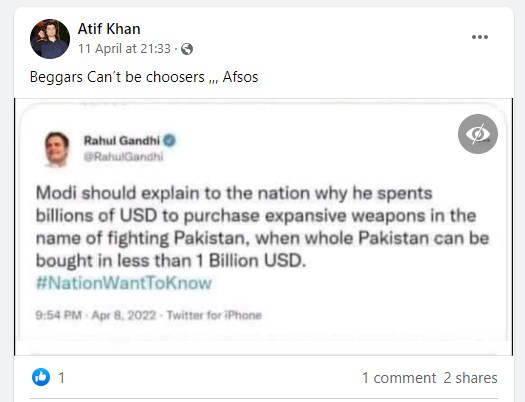 https://www.facebook.com/permalink.php?story_fbid=685767869513649&id=100042413252299
The screenshot of the tweet that is going viral read that "Modi should explain to the nation why he spent billions of USD to buy huge weapons in the name of fighting Pakistan when the whole of Pakistan can be bought for less than USD 1 billion." May #NationWantToKnow."
Many users have expressed regret on Rahul Gandhi by sharing this screenshot.
Fact Check: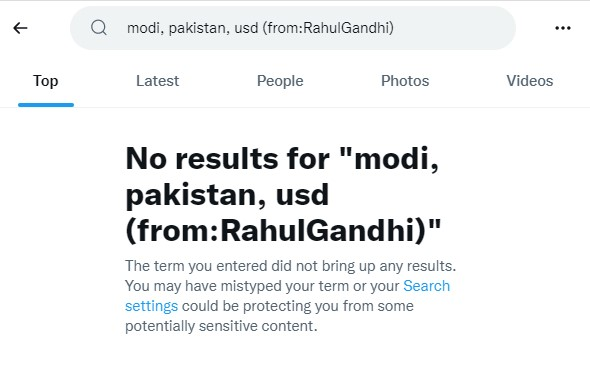 To corroborate the claim made in the viral screenshot, we did a tweet search on Rahul Gandhi's official Twitter account with certain keywords. But we could not find any such tweet.
लॉकअप में लोकतंत्र के चौथे स्‍तंभ का चीरहरण!

या तो सरकार की गोद में बैठकर उनके गुणगान गाओ, या जेल के चक्कर काटो।

'नए भारत' की सरकार, सच से डरती है। pic.twitter.com/HpterG5Zbv

— Rahul Gandhi (@RahulGandhi) April 8, 2022
On April 8, Rahul Gandhi had only one tweet. This tweet was about police torture in police custody in Madhya Pradesh.
Hence the viral screenshot of Rahul Gandhi's alleged tweet is fake.
Claim review: Did Rahul Gandhi say Pakistan can be bought for $1 billion?
Claim by: Social Media User
Fact check: Fake