Fact Check:- Is Akhilesh Yadav calling himself "Ravan" on social media?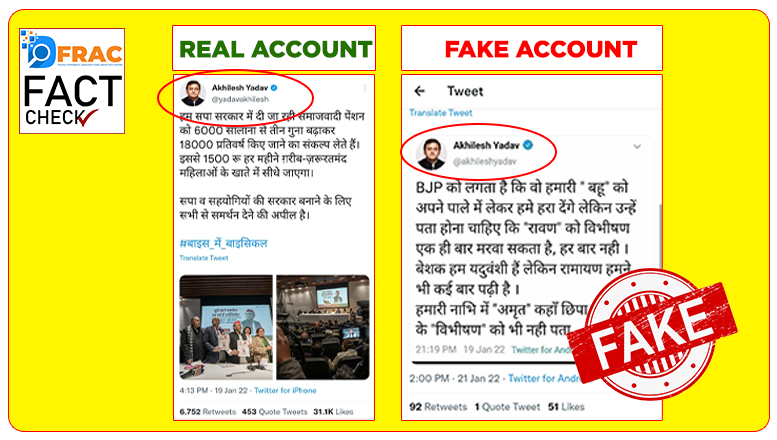 These days a picture is getting viral on social media of Samajwadi party's President Akhilesh Yadav, in which he stated that BJP might think if they have our "Daughter in Law'" on their side, they are going to win this election.  In the viral tweet he further claim himself as "Ravan" (an antagonist in Ramayana ) and stated that Ravan can't be killed by vibhishon ( brother of Ravan ) this time where the Amrit is hidden in my navel, no one knows. As he himself has seen Ramayana many a time despite being a Yadhuvanshi.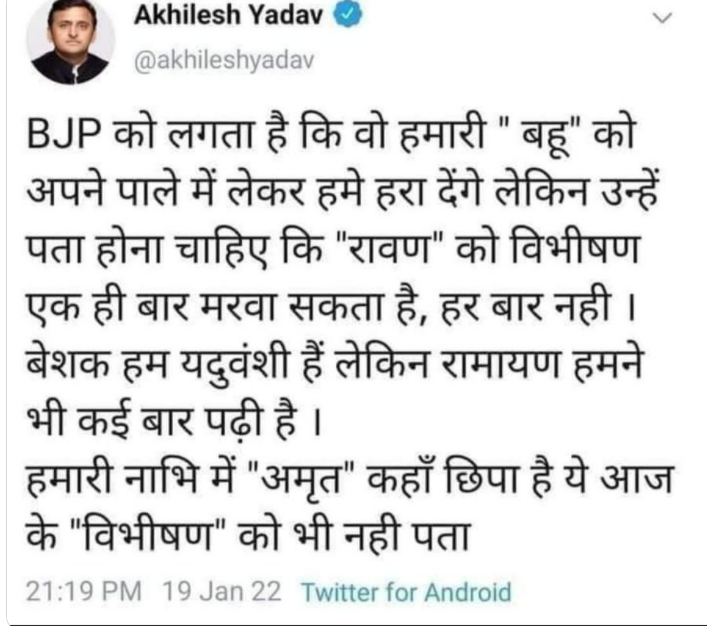 The trollers all over the internet are trolling Akhilesh on this statement of his, under various captions like, " vinashkalya vipreet budhi" etc.
नफ़रत नफ़रत में अखिलेश यादव उर्फ टोंटी ने अपने आप को रावण मान ही लिया ! 🙄🤔
"विनाश काले विपरीत बुद्धि"
😂😅🤣 pic.twitter.com/w2vrDMZImz

— Izlamic Terrorist (@raviagrawal3) January 22, 2022
This Picture got viral after Aparna Yadav (daughter-in-law of Mulayam Singh Yadav) decided to join hands with the opposition party i.e. BJP (Bharatiya Janata Party) in UP elections.

https://www.abplive.com/states/up-uk/up-election-2022-aparna-yadav-told-the-reason-for-joining-bjp-said-on-meeting-mulayam-singh-ann-2045000
Fact Check
Through our research, we got to know that the picture is being viral from the fake account of Akhilesh Yadav @akhileshyadav and not from his official Twitter handle which is @yadavakhilesh . No such recent tweet is done through his account and all his recent tweets are on his manifesto of the elections in UP.
हम सपा सरकार में दी जा रही समाजवादी पेंशन को 6000 सालाना से तीन गुना बढ़ाकर 18000 प्रतिवर्ष किए जाने का संकल्प लेते हैं। इससे 1500 रू हर महीने ग़रीब-ज़रूरतमंद महिलाओं के खाते में सीधे जाएगा।

सपा व सहयोगियों की सरकार बनाने के लिए सभी से समर्थन देने की अपील है।#बाइस_में_बाइसिकल pic.twitter.com/PtxxDY5XHl

— Akhilesh Yadav (@yadavakhilesh) January 19, 2022
Also in an interview, Akhilesh congratulate Aparna on joining hands with BJP when questioned by a reporter. That was later posted on the official account of ANI News UP.
#WATCH | Firstly, I will congratulate her and I am happy that Samajwadi Party's ideology is expanding…Netaji (former UP CM Mulayam Singh Yadav) tried to convince her: Samajwadi Party chief Akhilesh Yadav after Aparna Yadav joined BJP pic.twitter.com/aA294cMeVJ

— ANI UP/Uttarakhand (@ANINewsUP) January 19, 2022
Conclusion
This fact check leads to two conclusions first , the official account of Akhilesh stated nothing like that it was some fake Twitter account spreading fake news.
Secondly, publicly he is not at all against Aparna Yadav.
Claim Review: Akhilesh Yadav calls himself "Ravan" on social media.
Claimed by: A fake Twitter account of Akhilesh Yadav @akhileshyadav.
Fact Check: Fake.
About Author