Fact Check: No "Farman" issued by Rajasthan Government for those who misbehave with mosque
Since 31st August,2021, a message about the Ashok Gehlot government in Rajasthan went viral on social media. In this, there was talk of amending the law for misbehaving with the employees of any mosque or madrasa. The message claimed that the law has been amended to provide for three years imprisonment for doing so or causing harm or obstruction to them.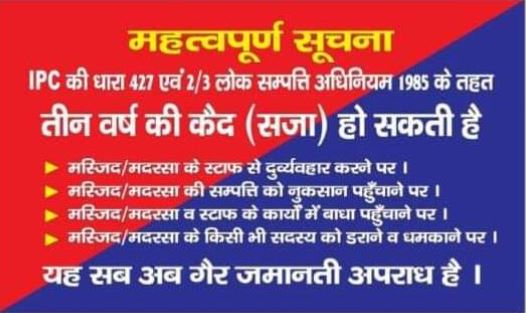 Many people posted about this on social media. Public reaction to the amendment was mixed. Some praised Rajasthan CM Ashok Gehlot for such an act, while some made fun of being secular.
https://twitter.com/naganirankarika/status/1432733406194900992
राजस्थान की कांग्रेस शासित सरकार का तुगलकी फरमान पढ़िए। अगर यूपी के मुख्यमंत्री योगी जी कुछ इससे उलट फरमान दे दे तो संविधान खतरे में तुरंत आ जायेगा,पर अब सब चुप है ..
इसलिये जागो सोने वालों .. pic.twitter.com/DYvI1kYG79

— Nitu Jha (@NituJhaBJP) August 31, 2021
Fact Check:
Reverse image search of the above image revealed that Rajasthan Police has also used this image in their post and declared it to be a fake message being circulated on social media. No such statement has been issued by the Rajasthan government.
Rajasthan's Police Statement:
#FakeNews Alert ~ For some time a message by mischievous elements with the aim of misleading the general public #SocialMedia But it is going viral which is false and misleading. We request you not to forward any such message. Legal action can be taken for spreading such misinformation.
Rajasthan's police tweet giving Fake News Alert
🚨#FakeNews Alert⚠️~

कुछ समय से शरारती तत्वों द्वारा आमजन को गुमराह करने के उद्देश्य से एक मैसेज #SocialMedia पर वायरल हो रहा है जो की मिथ्या एवं भ्रामक है।

हमारा आपसे निवेदन है ऐसे किसी भी मैसेज को आगे फॉरवर्ड न करे। इस तरह के दुष्प्रचार करने पर कानूनी कार्रवाई की जा सकती है। pic.twitter.com/Qo03EW7t7t

— Rajasthan Police (@PoliceRajasthan) August 31, 2021
Therefore, the above viral image claimed to be a Farman by Rajasthan's government is fake and misleading.
About Author