Fact Check: Misleading video of Nupur Sharma's arrest goes viral on social media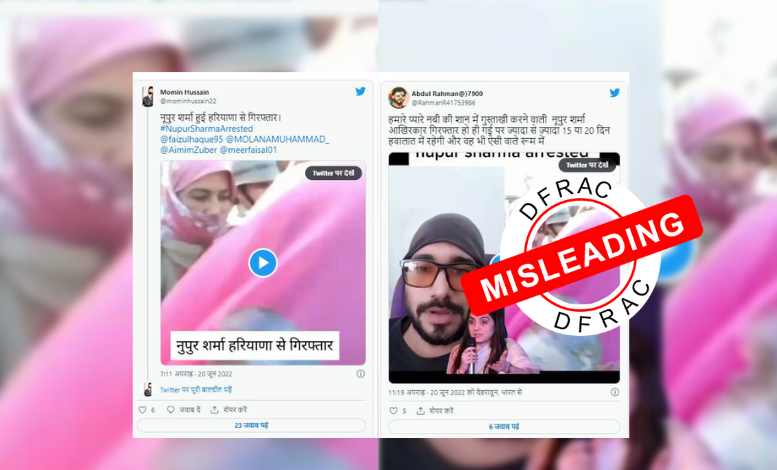 A video is going viral on social media. It is being claimed in this video that Suspended BJP spokesperson Nupur Sharma has been arrested. A case has been registered against Nupur Sharma for making objectionable statements on Prophet Mohammad during a debate on a TV channel. After this controversial statement, BJP expelled him from the party.
On Twitter, a user named Momin Hussain (@mominhussain22) wrote- "Nupur Sharma arrested from Haryana. #NupurSharmaArrested @faizulhaque95 @MOLANAMUHAMMAD_ @AimimZuber @meerfaisal01"
https://twitter.com/mominhussain22/status/1538879764777250817?s=20&t=qOxuml78DCh0pZqRkwZVRg
At the same time, another user wrote – "Nupur Sharma, who flaunted the pride of our beloved prophet, has finally been arrested but will remain in lockup for at most 15 or 20 days and that too in such a room."
हमारे प्यारे नबी की शान में गुस्ताखी करने वाली नूपुर शर्मा आखिरकार गिरफ्तार हो ही गई पर ज्यादा से ज्यादा 15 या 20 दिन हवालात में रहेगी और वह भी ऐसी वाले रूम में pic.twitter.com/xU7JfWlSpu

— Abdur Rahman@)7900 (@RahmanR41753986) June 20, 2022
Fact Check:
To check the news going viral, we did a simple search on Google. We could not get any news regarding the arrest of Nupur Sharma. In this context, we got the latest news from ABP News. In which Nupur Sharma has asked for 4 weeks to appear before Kolkata Police, stating that her life is in danger.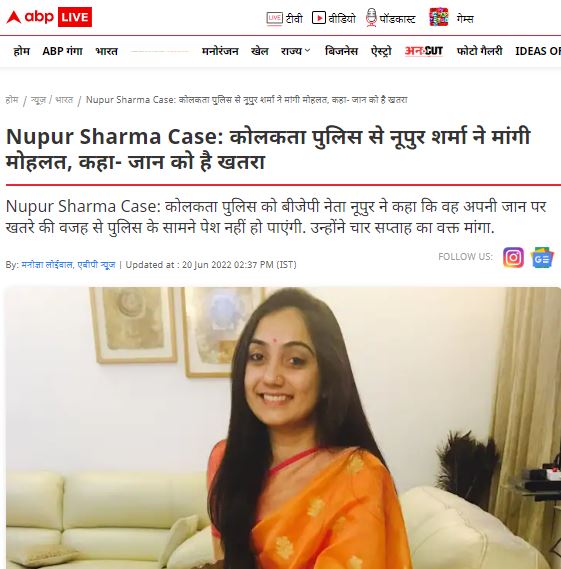 After this we started investigating this video and searching for some frames of the video. We found this video shared on Facebook in the name of farmer demonstration. The name of the woman who shared this video is Bhumi Birmi. she is a resident of Taranagar in Rajasthan and she is a farmer leader. At the same time, the woman seen in this video is not Nupur Sharma but Bhumi Birmi herself.
Posting this video on June 15, 2022, Bhumi wrote- "Whether you hit the stick, whether you break the hair, or break your head, but the officials and ministers sitting in closed rooms will not assess the damage of the farmer's crop. Taking crop cutting as the basis, insurance claim will have to be decided. The job of the government is to run sticks on the farmer and our job is to get the head busted. If your stick is strong then satellite will win and if our head is strong then crop cutting will win. The farmer produces food by irrigating it with sweat and our blood is made of that grain. The salt of sweat that comes out of the farmer's body reaches our body through food. We are not haraam salt. Oh! donor of food, I will shed your blood for you."
https://www.facebook.com/bhumi.birmi.9/posts/483237156904480
Conclusion:
The fact check of DFRAC proves that the claims being made by social media users regarding the arrest of Nupur Sharma are misleading. Because the video which is being viral as that of Nupur Sharma,is of Rajasthan's farmer leader Bhumi Birmi. At the same time, no such news of Nupur Sharma's arrest has come forward.
Claim Review- Nupur Sharma arrested from Haryana
Claimed by- Social media users
Fact Check – Misleading
About Author