A post is becoming very viral on social media with the  claim that former Prime Minister of Malaysia Mahathir Mohamad passed away.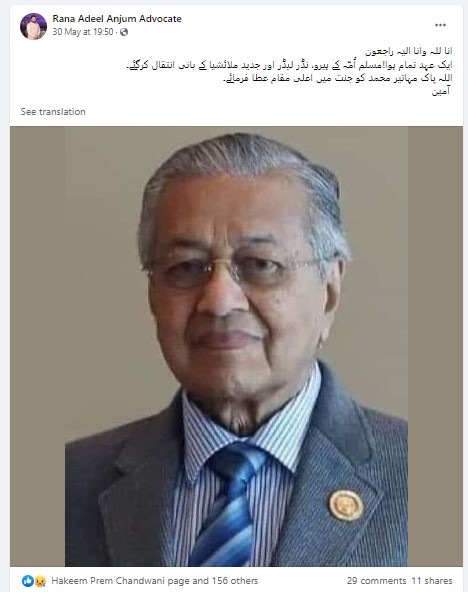 Further, a facebook user posted in Urdu and wrote that "Inna Lillahe and Inna Ilaihe Rajioon." An era has ended. Hero of Muslim Ummah, Fearless Leader, And the founder of modern Malaysia died. May Allah give Mahathir Muhammad sahib a high position in paradise.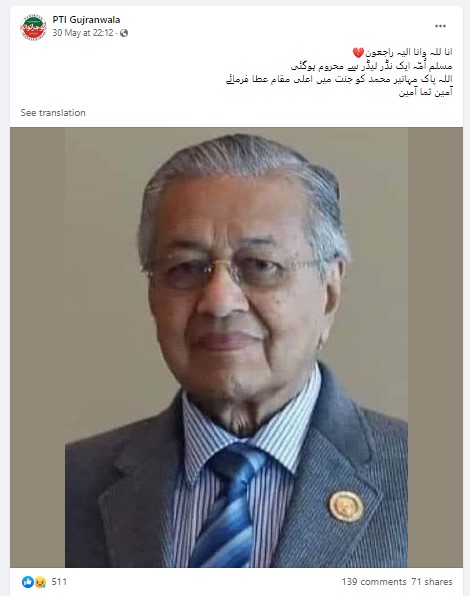 Similarly, many other Pakistani users shared this post, written in Urdu.
Fact Check:
— Dr Mahathir Mohamad (@chedetofficial) June 6, 2022
To verify the above claim, we first visited the official Twitter account of Mahathir Mohamad. But, there was no news related to his death on his Twitter.
In October 1995, I visited Republic of Peru. Peru was then led by President Alberto Fujimori. As a trading nation, Malaysia was always exploring new markets for our products. pic.twitter.com/dF2Xl6J5Bp

— Dr Mahathir Mohamad (@chedetofficial) June 3, 2022
However, we found a tweet by him on June 3. In which he shared a post about his meeting with Ricardo Estanislao Morote Canales, Ambassador of the Republic of Peru to Malaysia. And, in the pictures, the two dignitaries are shaking hands and chatting.
Apart from this , a report of AP News was found. In which a photo of him was published while attending the International Conference on "The Future of Asia" in Tokyo , Japan on 27 May 2022.
Also Read: ARE THE PEOPLE DRIVING OVER THE INDIA FLAG ON THE STREETS OF TAMIL NADU?
Conclusion:
Therefore, it is clear that the news of the death of former Malaysian Prime Minister Mahathir Mohamad is fake .
Claim: Former Malaysian Prime Minister Mahathir Mohamad passes away
Claimant: Facebook user
Fact Check: Fake