Delhi riot has created an atmosphere of terror and breakdown of another communal clash. After the case, much fake and misleading news is posted on social media platforms. A small video is going viral on the internet about the Delhi riot.
Santosh Chauhan Sudarshan News posted the viral clip of 30 seconds, where a Muslim man was seen yelling at the police officers. The Muslim man said to take off the uniform and then talk to me to the police officer.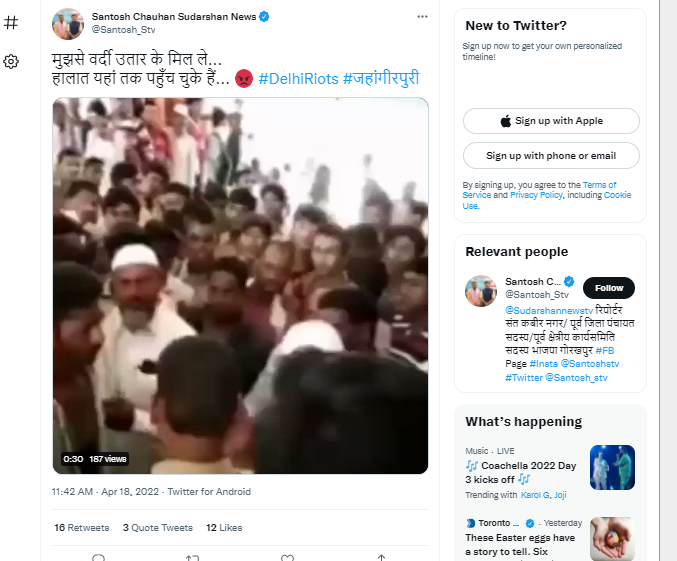 Sudarshan News also posted the viral video, quoted the warning given to police officers, and claimed it to be a scenario of the Delhi riot in 2022.
बार – बार मिलती रही एक चुनौती-
"वर्दी उतार कर मिल ले"..

घटना तब की जब मचाया जा रहा था – "डरे हुए हैं" का 'वामपन्थी' शोर…@DGPMaharashtra pic.twitter.com/cFDu5RIAvF

— Sudarshan News (@SudarshanNewsTV) March 18, 2021
Fact check
After doing the reverse image search, we found that the video was released in 2018. Jubileehills Feroz Khan posted the viral video in 2018. Therefore the claim is misleading as the video is old and belongs to Maharashtra as the initial conversation was done in Marathi. The user also claimed that it is a sight of Mumbai.

Conclusion: the claim is misleading.
Claim review: A video of a Muslim man arguing with Police got viral during the Delhi riot.
Claim by: Sudarshan News
Fact check: misleading