Droupadi Murmu has been elected as the 15th President of India. She defeated the opposition candidate Yashwant Sinha. There is an influx of people congratulating her on the victory. Further, social media users are writing posts of congratulations and best wishes and tagging Draupadi Murmu. In these posts, different users are tagging different accounts of Droupadi Murmu. After which we checked all the accounts run by her name. We found that several accounts have been created on Twitter using Droupadi Murmu's photo. In these accounts, the spelling of Droupadi Murmu's name is different. For example, Some have written the spelling of her name as Doupadi Murmu and some have written Dropadi Murmu. Apart from this, some users have created a Twitter ID with a special character like @Droupadi_Murmu and @DroupadiMurmu_. Below is the collage of many fake accounts of Draupadi Murmu.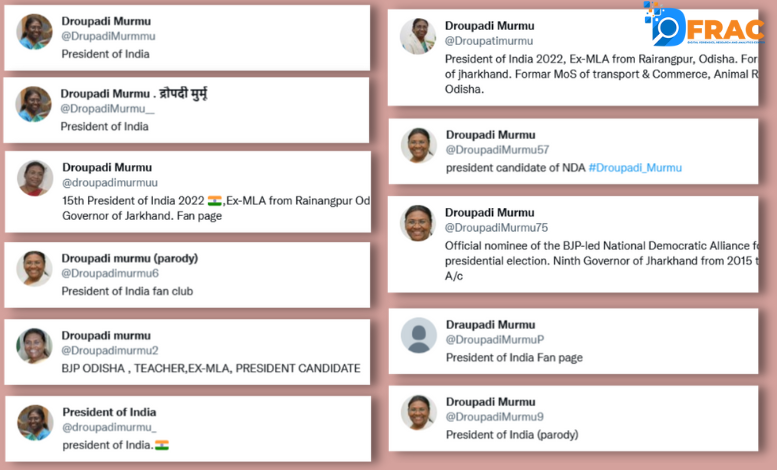 All these accounts of Draupadi Murmu are fake, parody or fan accounts. Further, in our DFRAC exclusive, we are analyzing many fake accounts of Droupadi Murmu.
One such fake account of Droupadi Murmu which is @DroupadiMurmu__. The account gained huge popularity and even have many verified followers. The account gained a large number of followers within a few days.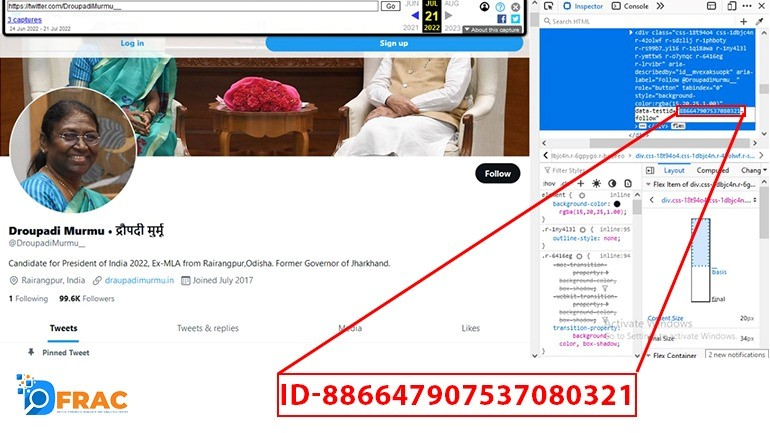 This fake account was created in July 2017 and all old tweets of this account was deleted. We have tracked the unique ID, then it was found that after getting ample followers, this account changed its username to @S28BO. Apart from this, it has changed the name from Murmu to Ranjit Kumar. Now this account has got more than 102K followers.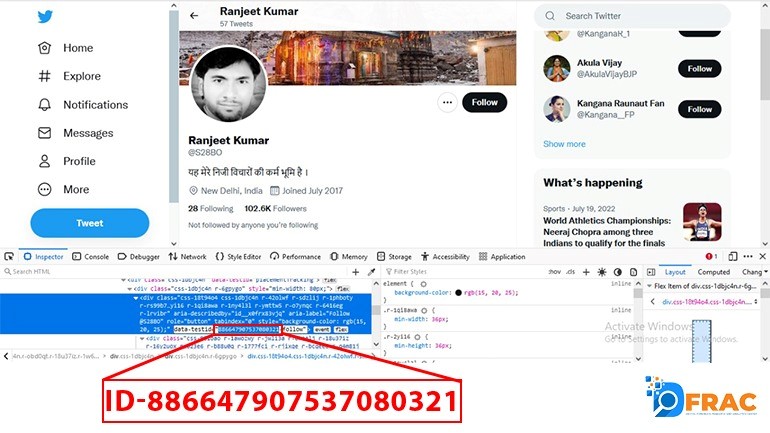 Here the unique ID of both the accounts is same, which means that the user has gained huge popularity by using the name of Draupadi Murmu. Then. It changed the username to Ranjit Kumar.
Moreover, many politicians and verified users of media channels have fallen prey to this fake account. Many users have wrote posts and tagged and mentioned this fake accounts. Those people have also congratulated this account. Some screenshots of ministers congratulating this account or tagging or mentioning these fake accounts are given are @LokendraParasar , @ ArunSao3 , @irammokariya , @sanghaviharsh , @purneshmodi , @MLAJagdish , @Pankajbhaidesai , @Nimishaben_BJP , @shailesh_sotta .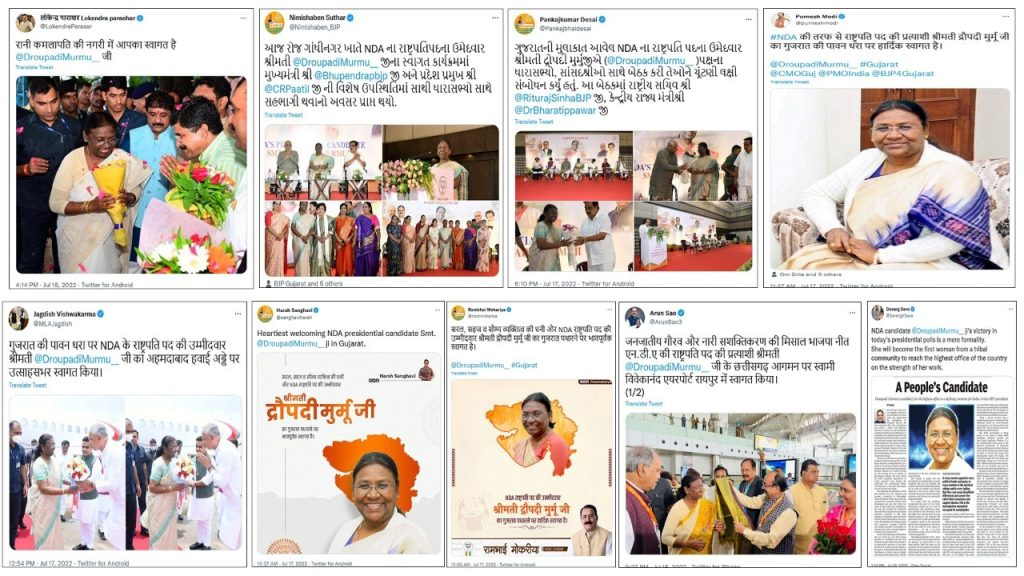 Apart from these politicians , many media organizations also congratulated Murmu by mentioning this fake account and tweeting . These include @outlets include @bbcnewsmarathi , @ETNOWlive , @TheWeekLive , @airnews_abad , @DynamiteNews_ , @ News1IndiaTweet , @NewsMobileIndia and @AsianetNewsSN .
In addition , When we searched the previous username of this fake ID , we came to know that earlier this account was running in the name of KJ Tiwari .
Further, we found this fake ID of Droupadi Murmu in the replies of various users. screengrab of it is given below.


The link of this fake account is : https://twitter.com/DraupdiMurmuBJP . This account @DraupdiMurmuBJP have gain popularity. @DraupdiMurmuBJP is not currently active on Twitter. The account has now changed its username to @TheShantipriya .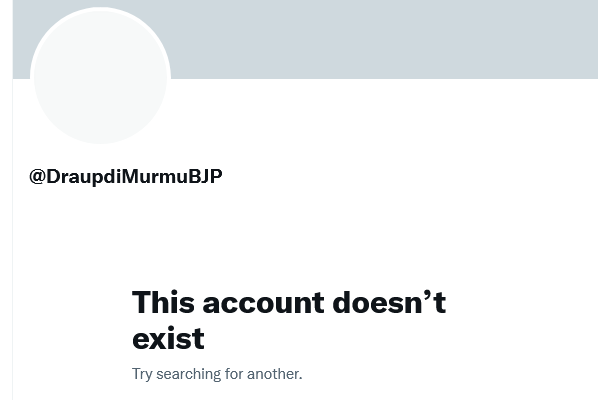 We did some research to find the archived version of this account. This account was created on September 2021. And, by June 22 , the account had 22,000 followers on Twitter.
Through the unique user ID we found that this account have changed its username. After which it came to light that this user has changed the username to @TheShantipriya.
On the other hand, considering this fake account as Draupadi Murmu's account, many verified users congratulated while mentioning her. Verified users who have mentioned this account are @manish_singhIND , @ neeraj_jain75 , @BJPMahilaMorcha , @ArunkrsinhaMLA , @ gajendra4bjp , @spsinghbaghelpr , @prahladspatel . _ _ _ At the same time, some media organizations like @IndiaAheadNews , @ News1IndiaTweet , @ZEEUPUK , @SudarshanNewsTV also mentioned this fake account.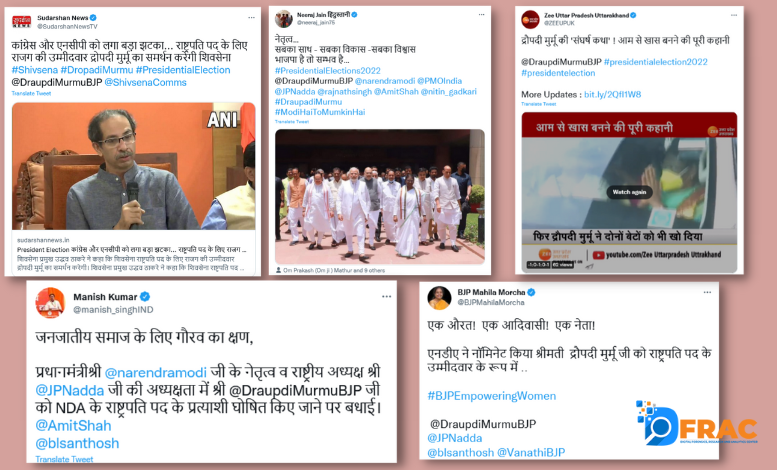 Another fake account by the name of Draupadi Murmu, which has got a large reach and followers. This account was recently created in June 2022 and has gained 50.5 thousand followers in 2-3 days of its creation. It has also misspelled the name of Droupadi Murmu . This user has written Draupadi Murmu, whose correct spelling in English is Droupadi Murmu.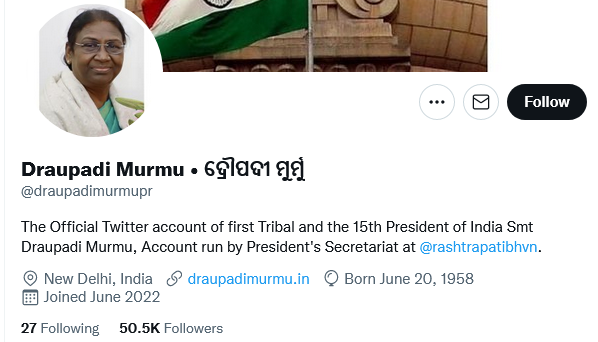 Here we are giving you the correct spelling of Draupadi Murmu " DroupadiMurmu " .

The spelling of Droupadi Murmu all leaders including Prime Minister Narendra Modi have shared the post .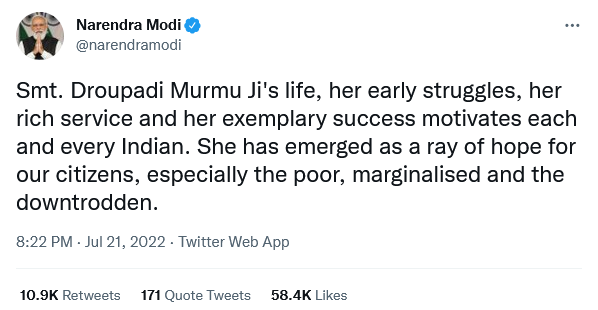 This fake account has been mentioned by many verified users. It include @mamtaOfficial , @SadhguruJV , @ShatruganSinha , @Abhinav_Bindra , @AmitThakerBJP and @VinojBJP . _ _ _ _ _ _
Another fake account by the name of Draupadi Murmu is @DroupadiMurmu75 .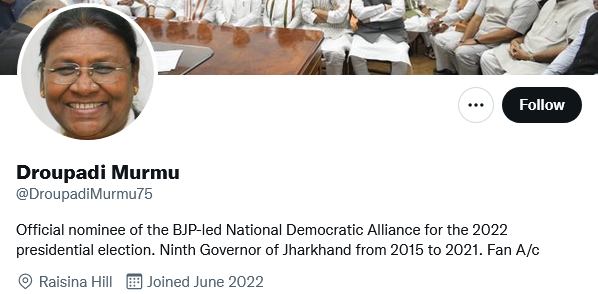 Fake account number-five- @MurmuDroupadi
Fake account number- six- @MurmuDroupadi
At the same time, we found another account that changed its username to @MurmuDroupadi while the profile photo has is of journalist Mohammad Zubair and user name is written as #IstandWithZuair.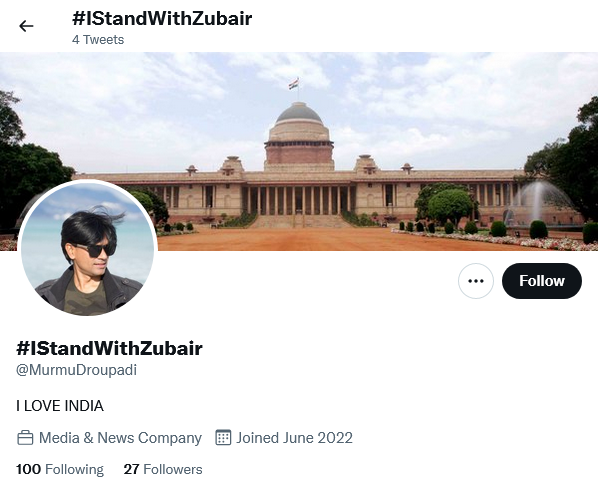 At the same time, we searched on Twitter to check the original Twitter ID of Draupadi Murmu. During this we got a tweet by journalist Anshul Singh. It has been told in this tweet that Draupadi Murmu's PA Suraj Kumar Mahato has told that Draupadi Murmu does not have any official Twitter account.
Conclusion:
India's 15th President Draupadi Murmu currently does not have an account on Twitter. Till now all the accounts running by her name on Twitter are fake. These social media users have done this to get followers and cheap popularity. Our investigation has also revealed that there are many users who have got thousands of followers by using the name of Droupadi Murmu. At the same time, their popularity have also increased a lot. Many of these users have changed their username to gain followers.